VENDOR COMPARISON
Why customers prefer GoToMeeting Over Webex
What you should know about consolidating your web conferencing with GoToMeeting.
SIMPLIFIED SOLUTIONS
Reasons to Switch to GoToMeeting from Webex:
Savings
Say goodbye to Webex's added costs. Switching to GoToMeeting's own flexible and affordable audio, Enterprise pricing and free, unlimited cloud based recording storage can add up to significant cost savings.

Simplicity
One vendor and one platform with seamless meetings across all devices, integrated chat that allows one-click meetings and the freedom of Smart Meeting Assistant that captures state of the art transcripts in an interface that makes them easy to read, use and share.

Support
24/7 support, white-glove onboarding, a fully managed rollout plan and a dedicated Customer Success Manager for right sized accounts.

Reliability
GoToMeeting hosts 18 million users worldwide each month and over 80 million meetings per year, all with 99.9% uptime.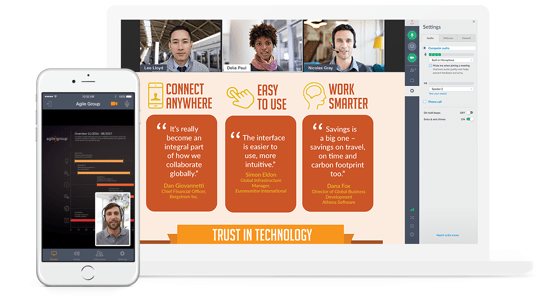 "@GoToMeeting recording with transcription…where have you been all my life? Amazing!!"
–Twitter, June 19
MEET THE RIGHT CHOICE
Eliminate web conferencing headaches
Vendor consolidation delivers so much more than just "one web conferencing provider." It's about eliminating the friction of Webex and experiencing the collaboration freedom of GoToMeeting.
SAVINGS. SIMPLICITY. SUPPORT.
Enterprise Simplified.
Enterprise Pricing
We offer our best product at our best price for larger installations.
Enterprise Sign-In
Use Active Directory Integration to add/remove large numbers of users, and for Single Sign-On (SSO) for employees.
Secure Meetings
With end-to-end encryption, strong passwords and top-rated reliability, your meetings are safe and secure.
HD Video Conferencing
Looking your best is easy in high-definition video and you can enjoy face-to-face interaction with up to 25 feeds per session.
Dedicated Support
From our seamless onboarding process, trainings and regular account reviews, we are with you every step of the way 24/7.
Conference Room Solutions
Whether you need an out-of-the-box solution or you already have the hardware, we have you covered.
I trust GoToMeeting because it's a global solution that supports all the countries I sell into. I love the localized international numbers for my audience to feel more comfortable with that level of choice for my audience.
I trust GoToMeeting because there's no other solution that works nearly as well.
I trust GoToMeeting because I know it will not crash during a call and even my more technology-challenged clients can join my calls without a problem.
I have been using GoToMeeting for a while now and also been using other solutions and GoToMeeting is by far the superior.
LEARN MORE
Have questions? Here's some helpful curated content.
GET THE FACTS
Make sure you consider these questions – and their answers – when it's decision time.
1. What's the process for diagnosing audio and meeting issues?

2. What's the user adoption and satisfaction?

3. How reliable has each solution been for your organization?
4. How easy is it for people outside your organization to join a meeting?

5. What level of support have you been receiving?

6. Have there been frequent changes or updates to the product that are negatively effecting usage?
Talk to a Specialist
Speak directly to one of our sales representatives by calling.
1 800 514 1317
Contact Us
Have questions? Want to see a live demo? We'll be in touch within 24 hours.
Contact Sales
Support
Check out our help center for answers to common questions.
Support