VIDEO CONFERENCING COMPARISON
GoToMeeting vs. Zoom
What you should know and what you should ask when comparing GoToMeeting and Zoom.
COMPARE AND CONTRAST
The clear video conferencing difference
On the surface, Zoom and GoToMeeting may seem quite similar. Both let you meet with anyone from whatever device you choose. But if you're pitting GoToMeeting vs. Zoom in the time-honored contest of best video conferencing providers, there's no comparison.
Trusted by millions of businesses, GoToMeeting is the professional choice for online meetings. From simple check-ins with teammates to high-value presentations for clients, its award-winning video conferencing service has been helping people get connected and get more done for nearly 15 years.

It's easy to see why. The combination of clear audio, smooth screen sharing and HD video makes for a powerful meeting experience. Plus, the GoToMeeting team acts as a close partner every step of the way, offering free onboarding and localized 24/7 support to ensure your success.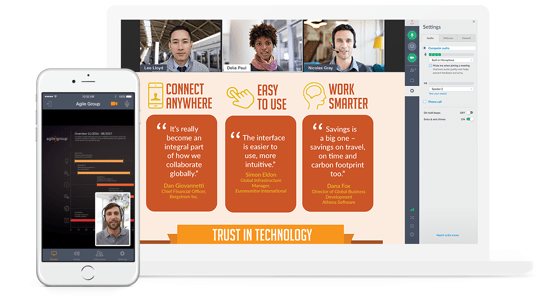 MEET THE RIGHT CHOICE
Why GoToMeeting?
Meetings matter. Nobody knows this better than GoToMeeting. Backed by years of experience and industry awards, GoToMeeting provides a professional meeting experience every time.
Over 75 million meetings per year

Built to last, GoToMeeting powers over 75 million meetings per year.
Ranked highest in customer satisfaction

GoToMeeting is consistently ranked highest in customer satisfaction.
Ranked #1 against our closest competitors

Our customer support team is ranked #1 against our closest competitors.
Close deals more than 20% faster

9/10 customers agree that they close deals more than 20% faster with GoToMeeting than with previous solutions.
GREAT MINDS MEET ALIKE
Our customers say it best.
We looked at three different solutions, including Zoom, but in the end GoToMeeting was the easy choice. We needed a professional corporate image for our meetings, and we really got that with GoToMeeting.
LEARN MORE
See how GoToMeeting can work for you.
Dive into the different ways GoToMeeting can help you get connected and get more done.
Get the Facts
Critical questions to ask when evaluating GoToMeeting vs. Zoom
Make sure you consider these questions - and their answers - when it's decision time.
1. What are the default encryption settings?


2. What is the new customer onboarding experience?

3. What kind of support will I get once I'm onboarded?
4. How reliable is the solution? How long have they been in business?

5. What are the company's long-term business plans?

6. Is there a customer-facing roadmap available?
Sign up for your free GoToMeeting Pro trial.
Get started today and see why GoToMeeting vs. Zoom is an easy choice.
Need more information? Call Sales 1 800 514 1317