GOTOMEETING FEATURES
Built-In Meeting Audio
Hear and be heard clearly with reliable GoToMeeting audio options.
HOW IT HELPS
Clarity when it counts.
Nothing ruins a good meeting quite like bad audio does. You prepare and prepare only to have things fall apart because no one can hear you clearly. Your audio drops out. Or your voice sounds too tinny. Or your words echo back at you. It can cause even the best speakers to stumble. So when you're looking at which video conferencing solution to use, meeting audio should be one of your first concerns. And GoToMeeting should be one of your first contenders. Our audio quality ranks 11% better than average on competitive benchmarks.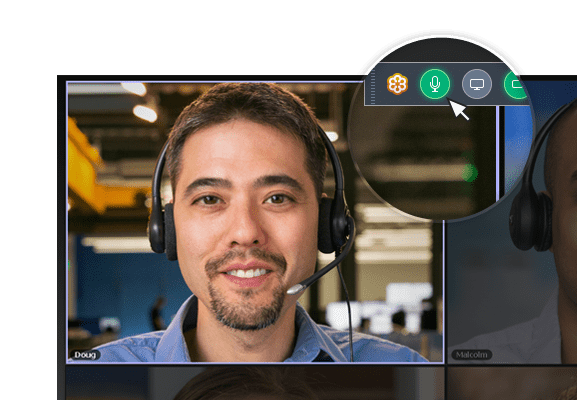 WHAT YOU CAN DO
Say how you will.
You've got multiple GoToMeeting audio options to choose from. All GoToMeeting plans include computer audio (VoIP), and the paid subscription plans offer phone calls (PSTN) as well. For the best sound, we recommend the first option. You'll instantly join the meeting audio through your Internet connection, which provides clear quality, especially if you have a headset on. The second option gives you phone numbers to dial in – just like how you'd join a conference call. This lets you join the audio meeting in all situations, even if your Internet is unavailable.
POWERFUL TECHNOLOGY
More than words alone.
Conference calls are convenient for business, but online meetings can lead to even better results. When you join a GoToMeeting session, you have access to great audio plus video conferencing, screen sharing and more – ensuring you can get more done from anywhere.

• Scheduled meetings with email invitations
• Instant meetings for ad hoc collaboration
• Whole-screen and single-application sharing
• Streamlined email, calendar and IM integrations
• Mobile apps for Android, Windows and iOS devices
• Optional toll-free numbers with Call Me audio
GET STARTED
Now you're talking.
Make sure your meeting audio is the best it can be.
Register for a free trial today
and discover the clarity of GoToMeeting. You'll spend less time fighting echoes and static – and more time actually getting things done.
If you're looking to extend the reach of your meetings, be sure to add Toll-Free Numbers to your plan when you buy. At $0.8/min per attendee or $5/organizer/month, Toll-Free Numbers are available in over 50 countries. They give your attendees another way to connect, ensuring everyone can call in without a cost, no matter where they are. In addition, you and your attendees can take advantage of Call Me. Join a meeting by simply answering the phone – no PINs or codes needed.
LEARN MORE
Additional GoToMeeting Features
Talk to a Specialist
Speak directly to one of our sales representatives by calling.
1 800 514 1317
Contact Us
Have questions? Want to see a live demo? We'll be in touch within 24 hours.
Contact Sales
Support
Check out our help center for answers to common questions.
Support
Free 14-Day Trial
Need more information?
Call Sales 1 800 514 1317