CALL ME
Offer attendees the easy option.
Quickly join the meeting by answering a phone call.
HOW IT HELPS
Faster to Join. Easier to use. Totally secure.
The days of dialing in with access codes and audio PINs are over. Call Me gives you and your attendees a completely secure option to join the meeting call audio by simply picking up the phone. Share your number, answer our call and that's it – you're in.
WHAT YOU CAN DO
Get a call when the meeting starts.
Have a phone you always use for meetings? GoToMeeting Call Me can save your number so that the next time you host a meeting (or join someone else's), you'll automatically get a call. Of course, you can still switch your communication option to computer audio whenever you like.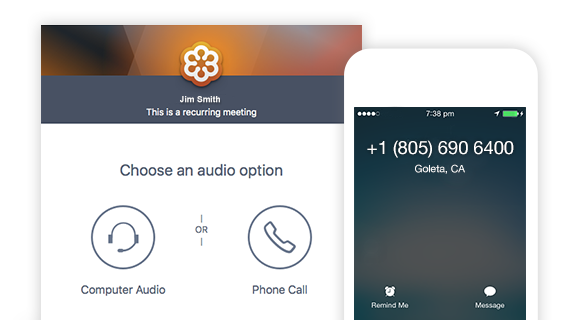 FOR YOUR ATTENDEES
Toll-free convenience.
When attendees choose to join through Call Me, not only do they bypass the hassle of dialing in, but they don't get charged a thing. Call Me is a toll-free service that the meeting organizer pays per minute, per attendee. That's it – there are no additional costs to offer Call Me. Talk about making a lasting impression on your peer group, clients and customers.
GET STARTED
Available for Starter, Pro and Plus.
Call Me is an optional feature for
GoToMeeting plans
provided by OpenVoice. Just add the service when you buy or anytime afterward from your
My Account page
. Only pay for what you use at $.08/min per attendee.
RELATED FEATURES
Learn more about GoToMeeting features.
FREQUENTLY ASKED QUESTIONS FOR CALL ME
Get answers to all of your questions.
How many attendees can join a GoToMeeting conference call?

Depends on the GoToMeeting plan you pick! Up to 250 attendees can join if you have GoToMeeting Plus, our biggest option. Need more than that? GoToWebinar, can handle over 1000 participants.

How do you organize a conference call?

Organize a conference call with these 10 steps:

1. Define the meeting agenda, complete with objectives.
2. Determine a convenient time for all participants to meet.
3. Send a calendar invite with the agenda and join instructions attached.
4. Familiarize yourself with the meeting controls before the conference call.
5. Join the conference call at least five minutes early.
6. Give conference call participants some guidelines at the beginning of the call.
7. Ask the participants questions to ensure understanding and engagement.
8. Record ideas, feedback and questions that arise during the conference call.
9. Conclude the meeting with action items.
10. Send a follow-up email to all participants after the conference call.


How do I create a conference call?

To create a conference call, follow these steps:

1. Create a conference call by first choosing a day and time that is convenient for participants.
2. Invite conference call participants via email. Ensure they have the call-in information, any necessary audio PINs and the date and time.
3. Begin the conference call at the scheduled date and time. Dial in or use the GoToMeeting app to join or start the conference call.


How do you create a recurring conference call?

To create a recurring conference call with GoToMeeting, follow these steps:

1. Sign in to your GoToMeeting account.
2. On the My Meetings page, click Schedule .
3. In the "Occurs" drop-down menu, select "Occurs multiple times."
4. Finish any other selections for your meeting and then click Save.


What is the price for conference calls with GoToMeeting?

When billed annually, the prices for GoToMeeting are as follows:

● GoToMeeting Starter: $14 per month (offers basic functionality)

● GoToMeeting Pro: $29 per month (includes more participants, recording and transcripts)

● GoToMeeting Plus: $39 per month (includes the most participants, plus InRoom Link capabilities)

Visit the

GoToMeeting pricing page

for full plan details.
Return to the Top
Talk to a Specialist
Speak directly to one of our sales representatives by calling.
1 888 646 0014
Contact Us
Have questions? Want to see a live demo? We'll be in touch within 24 hours.
Contact Sales
Support
Check out our help center for answers to common questions.
Support
Free 14-Day Trial
Need more information?
Call Sales 1 888 646 0014