GOTOMEETING CONFERENCE CALL
Conference Calling for Everyone
Connect with your customers or co-workers from anywhere on any device.
HOW IT HELPS
A call for simplicity.
The idea behind conference calling is a simple one: When you can't bring everyone together face to face, getting everyone on the same phone call or conference line is the next best thing. Unfortunately, the reality of conference calling is often much more complex. Long-distance charges can add up for non-local call participants. Poor audio quality can reduce call effectiveness. Difficult-to-understand conferencing controls can delay or interrupt meetings. The list of potential problems when setting up a conference call goes on, and it can be more than enough to sour businesses on the entire idea of conference calling. What your business needs is something better – a conference call solution that brings "simple" back without sacrificing effectiveness in the process. That's where GoToMeeting conference calling has you covered.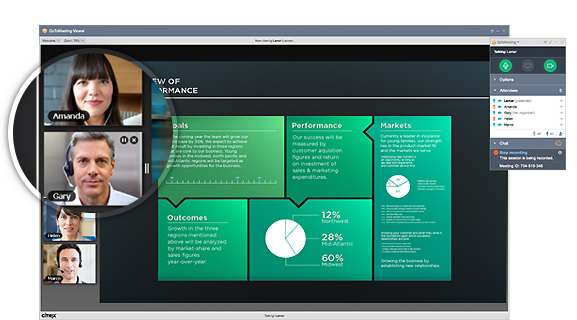 WHAT YOU CAN DO
Unlimited conference calling without the hassle.
GoToMeeting online conference call services take the complexity and uncertainty out of the conference call. When it comes time to get everyone on the conference line, you'll only have to worry about what to say rather than the service you're using to say it. You can initiate or participate in an online conference call via any desktop or laptop, whether it's a Mac or PC. GoToMeeting is also fully supported on iOS and Android mobile devices so you can easily and instantly jump on a call while away from the office. No matter where you are, no matter what device you're using, GoToMeeting conference calling is there to get you connected.

Essentially, any device that you can use to access the Internet can also be used to host or participate in a GoToMeeting conference call. GoToMeeting also expands the reach of the conventional conference call by allowing you to conduct unlimited calls as web conferences rather than as traditional, audio-only telephone calls. Of course, these advantages wouldn't mean much if the tool were too difficult for users callers to use, which is why GoToMeeting also features intuitive controls, easily available tutorials and a wide range of outside support options.
POWERFUL TECHNOLOGY
Features that dial it in.
At their most basic, conference call services should be able to connect a group of people from different locations on a single conference line. GoToMeeting does just that – and then some. These advanced GoToMeeting features can take your conference call to the next level without hurting usability.

• Optional toll-free numbers for over 50 countries
• Specially designed mobile apps
• Single-tap conference call meetings
• High-quality video conferencing
• Custom email invitations
• Screen sharing
• Reservationless connections
• Free conference call recording
• Integrated scheduling

Easy to use yet extremely effective, GoToMeeting improves collaboration, increases conference meeting efficiency and reduces overall spend. The result is a powerful VoIP and dial-in conference call service that ensures your meetings run smoothly from start to finish. So, whatever you have to talk about, you can be sure that your conference call tool is supporting the conversation.
GET STARTED
Try GoToMeeting today.
There's no reason why a conference call service can't be both simple and extensive. GoToMeeting makes it possible for you to bring everyone together on one conference line, effectively, efficiently and effortlessly. Connect with customers, employees, prospects and more, all at the push of a button. With GoToMeeting, you'll enjoy unlimited long-distance conferencing, powered by the most up-to-date technology. It's time you tried a free conference call from GoToMeeting. Sign up today to take advantage of our
free GoToMeeting trial offer
.
If you decide to buy, be sure to add Toll-Free Numbers and Call Me to the built-in VoIP and toll-based audio conference call options of GoToMeeting. These extra conference call services are available to give your attendees even more convenience. Call Me lets you join a session simply by answering a phone call. And Toll-Free Numbers, available in over 50 countries, ensure that everyone has the option to join by phone without long-distance charges. Only pay for what you use at $.08/minute per attendee. These options help make every conference call a smooth ride from start to finish.
LEARN MORE
Additional GoToMeeting Features
FREQUENTLY ASKED QUESTIONS ON CONFERENCE CALLING
Get answers to all of your questions.
How many attendees can join a GoToMeeting conference call?

Depends on the GoToMeeting plan you pick! Up to 250 attendees can join if you have GoToMeeting Plus, our biggest option. Need more than that? GoToWebinar, can handle over 1000 participants.

How do you organize a conference call?

Organize a conference call with these 10 steps:

Define the meeting agenda, complete with objectives.
Determine a convenient time for all participants to meet.
Send a calendar invite with the agenda and join instructions attached.
Familiarize yourself with the meeting controls before the conference call.
Join the conference call at least five minutes early.
Give conference call participants some guidelines at the beginning of the call.
Ask the participants questions to ensure understanding and engagement.
Record ideas, feedback and questions that arise during the conference call.
Conclude the meeting with action items.
Send a follow-up email to all participants after the conference call.

How do I create a conference call?

To create a conference call, follow these steps:

Create a conference call by first choosing a day and time that is convenient for participants.
Invite conference call participants via email. Ensure they have the call-in information, any necessary audio PINs and the date and time.
Begin the conference call at the scheduled date and time. Dial in or use the GoToMeeting app to join or start the conference call.

How do you create a recurring conference call?

To create a recurring conference call with GoToMeeting, follow these steps:

Sign in to your GoToMeeting account.
On the My Meetings page, click Schedule.
In the "Occurs" drop-down menu, select "Occurs multiple times."
Finish any other selections for your meeting and then click Save.

What is the price for conference calls with GoToMeeting?

When billed annually, the prices for GoToMeeting are as follows:

GoToMeeting Starter: $14 per month (offers basic functionality)
GoToMeeting Pro: $29 per month (includes more participants, recording and transcripts)
GoToMeeting Plus: $39 per month (includes the most participants, plus InRoom Link capabilities)

Visit the

GoToMeeting pricing page

for full plan details.
Return to the Top
Talk to a Specialist
Speak directly to one of our sales representatives by calling.
1 800 514 1317
Contact Us
Have questions? Want to see a live demo? We'll be in touch within 24 hours.
Contact Sales
Support
Check out our help center for answers to common questions.
Support
Free 14-Day Trial
Conference calling is included on all GoToMeeting plans.
No credit card necessary.