GOTOMEETING FEATURES
Instant Meetings and Scheduled Meetings
Start an instant meeting with GoToMeeting in seconds or schedule meetings for another time
HOW IT HELPS
Whenever works for you.
Scheduling a meeting with remote attendees is no longer the hassle it once was. Thanks to video conferencing, everyone can connect together easily. All you need is to decide who to invite to the discussion – and when to host the meeting. Fortunately, GoToMeeting is as flexible as you are. If you need to meet immediately, no problem. Start an instant meeting with just one click thanks to our online instant scheduling. If you'd like to host a webinar with a big group, schedule meetings on the calendar for later.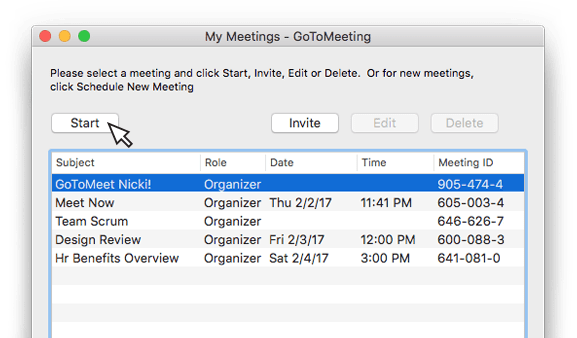 WHAT YOU CAN DO
Meet now. Meet later.
GoToMeeting works wonders as an instant-meeting app. Trying to hammer out an issue? Skip the endless emails and phone calls. They only slow you down, because you can't collaborate live on your work or communicate face to face. With GoToMeeting, you can host a meeting, invite others and share your screen and webcam in no time. GoToMeeting makes it easy to schedule a meeting, too. You can plan one-off sessions or set them to happen regularly. Either way, you can send out meeting invitations with all the details your participants need to know, including the meeting ID, when the meeting starts, how to join and which devices they can use. Then when the meeting time rolls around, connecting is as simple as clicking a link.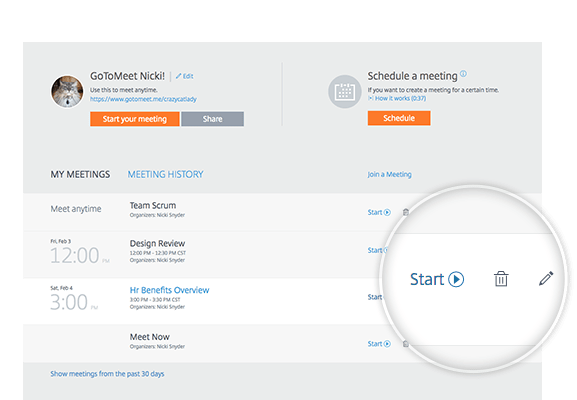 POWERFUL TECHNOLOGY
Ready-to-use features to schedule a meeting.
Instant meeting or scheduled meeting – it makes no difference to the feature line-up. You'll have full access to professional tools and meeting settings that make a real difference time and time again.

• Live screen and application sharing
• Built-in and phone-based audio options
• Up to six high-quality webcams at once
• Simple controls on desktop and mobile
• Integrations with popular email programs
• Seamless meeting recordings
GET STARTED
It's go time.
Why wait any longer? Schedule a meeting today! Whether you prefer recurring meetings or to meet on the fly, you'll be ready to go with GoToMeeting. Say goodbye to traditional meeting spaces and
start your free trial today.
After you sign in, you'll land on the My Meetings page, your new base of operations. Here you'll find your personal meeting room link, where you can start instant meetings. There's also a button to set up scheduled meetings. During your trial, we recommend trying out both so you get comfortable with our service and the way it works. Soon enough, you'll have online meetings mastered.
Talk to a Specialist
Speak directly to one of our sales representatives by calling.
1 888 646 0014
Contact Us
Have questions? Want to see a live demo? We'll be in touch within 24 hours.
Contact Sales
Support
Check out our help center for answers to common questions.
Support
Free 14-Day Trial
Need more information?
Call Sales 1 888 646 0014