GOTOMEETING FEATURES
High-Quality International Conference Call Services
Stay connected with your team across the globe.
HOW IT HELPS
Calls heard around the world.
These days, easy and affordable telecommunication technology makes it possible for even the smallest organization to reach individuals in another country and conduct business globally. But as companies grow , they may encounter certain problems – especially when it comes to conducting meetings in multiple countries simultaneously. Standard long-distance telephone connections are notoriously spotty, and poor network coverage can often result in dropped calls and low-quality audio. At the same time, the costs associated with lengthy international telephone calls are often more than the meeting itself is worth. However, organizing an international conference call doesn't have to be a bad or expensive experience if you select the right international conference call provider. With GoToMeeting, you can start a conference call with participants around the world, all while disconnecting yourself from the hassle of conventional international conferencing.
WHAT YOU CAN DO
International conference calls made simple.
GoToMeeting international conferencing is as simple as pushing a button. Host a conference call with teams and clients all around the world as clearly and as easily as if they were sitting on the other side of the conference table. Start or join a call, regardless of your preferred operating system – the GoToMeeting international call services are cloud-based, so it doesn't matter if you're using Mac, PC, iOS or Android. You'll always be able to enjoy a hassle-free international conference call experience from your desktop or mobile device. And, if you feel like a regular phone conversation isn't enough to get your point across, GoToMeeting lets you conduct any international call as a video-enabled web conference.
EVERYTHING YOU NEED
Features that go the distance.
GoToMeeting makes it easy to connect with partners, co-workers and clients all around the globe as if they were local, but why stop there? GoToMeeting takes things further with advanced features that are miles ahead of the standard offering.

• Optional toll-free numbers for over 50 countries
• Specially designed mobile apps
• Single-tap meetings
• Advanced video options
• Robust organizer controls
• Reservationless calls
• Free call recording
• Integrated scheduling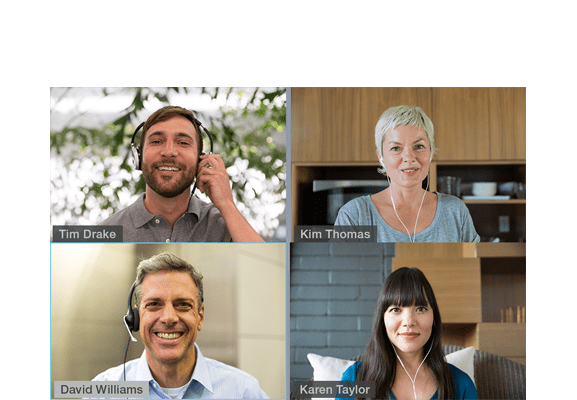 HOW IT ALL WORKS
Instant international connections.
At the click of a button, GoToMeeting bridges the distance between sites. By connecting you and your participants whether they're using computer audio or the telephone, you get to enjoy the benefits of local calling, even when your people are anything but. The result is improved collaboration, increased efficiency and reduced costs, all without the issues that tend to plague standard international conference calls. It really is a small world, and with GoToMeeting available worldwide, it's getting even smaller
GET STARTED
Answer the call.
The modern business world doesn't stop at borders, so why should you? GoToMeeting international conferencing can help you bring your people together better than any other solution. Register today to take advantage of our
free GoToMeeting trial offer
. Global is in your future, and with GoToMeeting, that future is looking bright.
LEARN MORE
Additional GoToMeeting Features
GoToMeeting International Conferencing FAQs
Frequently Asked Questions
What are a few international conferencing tips?

Here's what we recommend:

Schedule with international time zones in mind
Do what you can to break down the language barrier
Offer to translate the conference call transcript afterward
Be early to the meeting
Speak slowly and clearly

How do international toll-free dial-in numbers work?

International toll-free dial-in numbers enable participants from specific countries to dial in via phone. The numbers will vary by country, and they allow participants to avoid the expense of long-distance fees. Instead, the meeting organizer picks up the tab, ensuring their participants can choose whichever audio option is the most convenient for them without worrying about charges.

How do I provide global dial-in numbers for my meetings?

First, sign in to your GoToMeeting account and select Settings.
Next, in the Audio section, select Edit and pick the countries you would like to provide toll-based long distance numbers for.
In Settings, you can also select countries for which you'd like to provide toll-free long-distance numbers. For this, you will need Toll-Free Numbers, which you can add to your existing plan at any time.
If you do not see the country you want in the on the long-distance numbers list, it may be available under toll-free numbers.
Remember that built-in computer audio is always free and available via desktop, the web app or the mobile apps.

How do I find the dial-in number for my country if I'm an attendee?

If you are having trouble finding the dial-in number for your country, it may be because your organizer has not yet added the country to their long-distance meeting numbers. Reach out to your organizer directly and ask them to edit the meeting and add a phone number for your country. If it turns out your country is not offered, you will still be able to join the meeting for free using your computer audio.

How do I change the countries for which phone numbers are provided?

To change the countries that have phone numbers provided for your meeting:

Sign in to your GoToMeeting account and select Settings.
In the Audio section, click Edit underneath "Long-distance numbers" and/or "Toll-free numbers."
Pick the countries you want to offer.
Click Done when you are finished. Your next meeting will now have the extra numbers available for participants to use.
Return to the Top
Talk to a Specialist
Speak directly to one of our sales representatives by calling.
1 800 514 1317
Contact Us
Have questions? Want to see a live demo? We'll be in touch within 24 hours.
Contact Sales
Support
Check out our help center for answers to common questions.
Support
Free 14-Day Trial
Need more information?
Call Sales 1 800 514 1317