GOTOMEETING FEATURES
Meeting and Screen Share Drawing Tools
Highlight what's important in your presentation with simple screen annotations.
HOW IT HELPS
Draw your attendees' attention.
With the GoToMeeting Spotlight screen drawing tool, one of the simplest presenter tools around is also one of the most effective. The laser pointer helps you emphasize ideas and capture attention – all with a flick of the wrist. So when it comes to online meetings, GoToMeeting gives you the pointer and more to ensure your presentation is equally engaging. Through shared screen annotation, you can get attendees to focus on your content and better understand your message. You'll feel just as capable and in control as when you're standing at the podium. And you won't even have to worry about the batteries.
WHAT YOU CAN DO
Tell and show.
Forget the dry-erase board. GoToMeeting makes giving a presentation even easier. You can guide user and participant attention with three different screen share drawing tools. The Pen lets you draw on the screen to underline your message or sketch out an idea. The Highlighter creates a yellow-marker trail so you can emphasize areas of interest. And the Spotlight gives you a laser pointer for clearly showing attendees where to focus. Want to create a more collaborative environment? You can let your team make screen annotations, too. Their drawings appear on the same screen for everyone to see.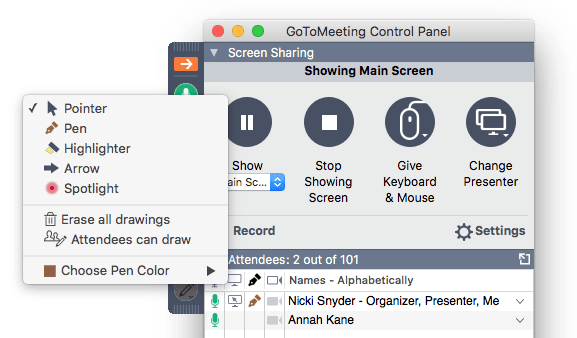 POWERFUL TECHNOLOGY
Round out your toolkit.
GoToMeeting is the presenter's choice for more than just its screen drawing tool solutions. The whole set of built-for-business features gives your meetings the reliability, simplicity and clarity they deserve.

• Impromptu meetings and planned meetings
• Full-screen and single-application sharing
• HD video conferencing for multiple presenters
• Built-in VoIP and telephone audio options
• Easy email, calendar and IM app integrations
• On-the-go presentations with mobile apps
GET STARTED
Make your mark.
Preparing for an internal presentation with co-workers or a large proposal to customers? Make sure your attendees see your point.
Start your free GoToMeeting trial today
to sketch out your ideas in a way that everyone can understand.
The trial is a great way to get comfortable with the essentials of online meetings. Once you've started your first session, take a look at the Control Panel. Everything from screen sharing to video conferencing is clearly marked, including screen share drawing tools. You'll be ready for that presentation in no time.
LEARN MORE
Additional GoToMeeting Features
Meeting Drawing Tools FAQs
Get answers to all of your questions.
What are the benefits of the meeting drawing tools?

GoToMeeting Drawing Tools give you the power to show as well as tell. Underscore ideas, capture attention and make your point visually, no matter how far away your audience is. Some of the benefits include:

Using the "Pen" option to draw directly on shared screens to underline important messages or sketch out ideas. Use the Highlighter tool to emphasize areas of interest
Using the "Spotlight" feature to show attendees where they should be focusing
Improving collaboration by granting screen drawing permissions to your participants

With GoToMeeting Drawing Tools, you'll enjoy the convenience of telecommunication coupled with the engagement of an in-person whiteboard presentation.

How do I enable/disable drawing tools for an individual?

Right-click the participant's name in the Attendee pane.
Click Allow Drawing.
When Drawing Tools are enabled for the user, a Check icon will appear next to Allow Drawing. The attendee can click and drag the mouse over the Viewer to make their drawings appear on the shared screen for all participants.
When Drawing Tools are disabled for the user, the Check icon will disappear.

How do I enable/disable Drawing Tools for all participants?

In the Drawing Tools menu, click the Options icon.
Click Attendees Can Draw.
When Drawing Tools are enabled for others, a Check icon will appear next to Attendees Can Draw. Attendees can click and drag the mouse over the Viewer to make their drawings appear on the shared screen for all participants.
When Drawing Tools are disabled for others, the Check icon will disappear.

Why don't I see drawing tools?

If you aren't seeing your Drawing Tools, don't worry. There are a few different reasons why they might not be appearing;

You might not be the presenter:
Only the current presenter has full access to managing the Drawing Tools. Even if you are the organizer, you'll have to request Drawing Tool access from the presenter for the Drawing Tool pane to appear in your Control Panel.
You might be using the Web App:
Drawing tools are not currently available on the Web App. To access drawing tools, switch to the desktop app.
You might be using the mobile app:
Drawing tools are not currently available on iOS, Android, or Windows Phone apps. To access Drawing Tools, switch to the desktop app.

What happens if I am using a non-Aero Windows theme?

If you are the current presenter and you are using the desktop app, but you still don't see the Drawing Tools pane in your control panel, then it may be because you aren't using an Aero theme on your Windows computer. Drawing Tools do not run optimally on non-Aero computers, and are not automatically enabled.

To enable Drawing Tools, change your Windows theme to an Aero theme. Do this by following these steps:

Open the personalization options in the Control Panel (for Windows 7, this is Control Panel > Change the theme).
Select one of the themes that are listed in the "Aero Themes" section.
Once your changes are applied, the Drawing Tools pane will automatically appear in your Control Panel.

Alternatively, you can manually enable Drawing Tools in non-Aero themes. Do this by following these steps:

Click GoToMeeting at the top of your Control Panel to see the drop-down menu.
Hover your mouse over Drawing Tools, then select Open.
You will see a warning that Drawing Tools do not work well with your existing desktop background. Click Yes to continue.
The Drawing Tools pane will then appear in your Control Panel. If it does not, repeat Steps #1 - 2.

How do I erase all the drawings during the meeting?

Click the Drawing Tools button in the Grab Tab.
Click Erase all drawings. All drawings made by any participant will immediately disappear.
Return to the Top
Talk to a Specialist
Speak directly to one of our sales representatives by calling.
1 800 514 1317
Contact Us
Have questions? Want to see a live demo? We'll be in touch within 24 hours.
Contact Sales
Support
Check out our help center for answers to common questions.
Support
Free 14-Day Trial
Need more information?
Call Sales 1 800 514 1317