BUSINESS MESSAGING
Collaborate seamlessly with your team.
Stay connected to keep things moving before, during and after the meeting. As a GoToMeeting admin, turn on the Instant Messaging feature in the Admin Center to get access.
LET CONVERSATION FLOW
Collaboration has never been more seamless.
Business messaging with GoToMeeting lets you instantly flow from a chat conversation to a screen-share meeting to a video call – all in one place.
Business Messaging
Enable Business Messaging on your GoToMeeting account.
Give all your employees instant messaging capabilities, for free. You can set your users up to chat internally, or with external partners as well. Watch the video to learn how.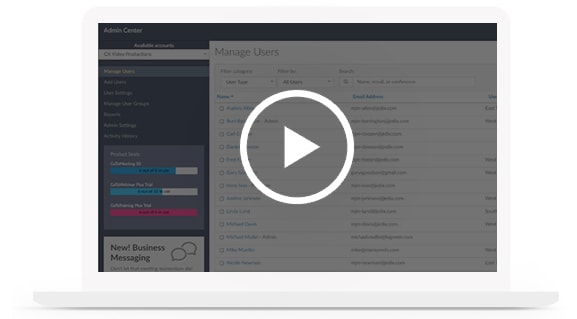 EXTERNAL COLLABORATION
Chat outside your company walls.
Chat isn't limited to just your coworkers anymore. You can chat or meet with a prospect, customer, vendor – you name it. Just send them an invitation right from GoToMeeting to get connected.
GROUP CONVERSATIONS
Create groups for teams, projects and topics.
Get all the right people talking, no matter who they are! Start a public or private group chat with any of your contacts.
INSTANT ONLINE MEETINGS
Jump into a meeting in one click.
Some topics deserve a deeper discussion. In seconds, you can launch a full online meeting with clear audio, video and screen sharing right from your chat. And it's all backed by the reliability and service you expect from GoToMeeting.
USER PRESENCE
See who's available or set a status.
Worried about interrupting? With status messages, you always know who's online and available to talk. And the same goes for you – just change your status when you don't want to be disturbed. Work when you want, how you want.
CROSS-PLATFORM
Works anywhere, on any device.
With apps for desktop, web browsers, iOS and Android, the new GoToMeeting works for you, wherever you are.
Give it a go!
Turn On Messaging
In the Admin Center under Admin Settings, turn on Instant Messaging and start collaborating seamlessly with your team.