GOTOMEETING FEATURES
Mobile Conferencing
No computer? No problem.
HOW IT HELPS
Free yourself.
Not all business is conducted in the office, so why should your conference calls have to be? Standard web conferencing services force participants to remain tethered to their computers, severely limiting the range of where those calls can be handled. When your team needs to jump on a call, it shouldn't matter if they're at work, at home or any place in between. GoToMeeting phone conferencing cuts the cord, giving users the freedom to host meetings and collaborate from anywhere in the world. So, whether you're at your desk or as far away from it as possible, the GoToMeeting conferencing apps can keep you and your employees connected. Set your business free with the GoToMeeting mobile phone conferencing apps.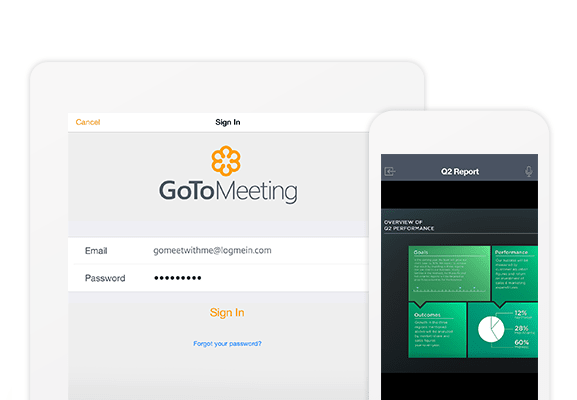 WHAT YOU CAN DO
Meetings in the palm of your hand.
Discussion is the foundation of business, so the tools you use to collaborate should be uncomplicated, accessible and simple. The GoToMeeting mobile-conferencing app empowers users to start or join a video-enabled mobile online meeting at the push of a button – no desktop or laptop computer necessary. The mobile apps are compatible with iOS, Windows and Android devices. You'll need a GoToMeeting subscription to start meetings, but your attendees can join completely free of charge. They just tap the link in your invitation, and GoToMeeting takes care of the rest. And for those who are hosting a conference call on mobile, you can schedule or launch meetings from your phone instantly. Easy-to-follow tutorials and multi-channel user support options are also available to ensure everything goes smoothly.
POWERFUL TECHNOLOGY
Features to keep you on the go.
An effective mobile conference-call product needs to provide at least the same level of service as conventional web meetings, but GoToMeeting goes even further. With a range of advanced features and options, you'll get more out of your mobile conference call than you ever thought possible.

• Optional toll-free numbers in over 50 countries
• Intuitive controls
• Join via a single tap
• Meeting reminder alerts
• Individual and group chat
• Advanced video options
• Reservationless calls
• Free call recording
• Integrated scheduling
• Automatic bandwidth adjustment

Who says mobile conferencing has to be a hassle? The GoToMeeting mobile conferencing app is as easy to use as it is effective. Speak with clients, hold meetings, collaborate on projects and more, all without ever missing a beat when you're away from the office. The GoToMeeting app will make you wonder why you ever bothered meeting without it.
GET STARTED
The world is your office.
Don't let your workplace become your prison. GoToMeeting cell phone conference call solutions let you conduct business from wherever you need to be. And with GoToMeeting mobile video calls available around the globe, you'll be able to enjoy the benefits of world-class mobile communication and collaboration on a world-sized business stage. Register today and take advantage of our
free GoToMeeting trial offer
to see how far you can go when the entire world is your office.
Once you've begun your trial, visit the iOS, Android or Windows app stores to install the GoToMeeting mobile app on your device. Or, click the links below to jump right to each respective page. Sign in with your new GoToMeeting account, and you're ready to meet from anywhere.
On all platforms, you'll be able to view a list of your scheduled meetings, where you can easily start a session. You can also schedule new meetings right from the app, edit the conference details and invite people to your session. Need to meet now? No problem. All it takes is a tap to launch a mobile conference call instantly.
MOBILE APPS
Download the mobile conferencing app:


LEARN MORE
Additional GoToMeeting Features
Mobile Conferencing FAQs
Get answers to all of your questions.
What are the benefits of mobile conferencing?

Some of the key benefits of mobile conferencing include:

On-the-go collaboration
Lowered costs due to the ability to connect remotely
Accelerated productivity
Enhanced communication

Can I schedule meetings from the GoToMeeting app?

Yes, It's simple to schedule meetings from the GoToMeeting app.
Tap the Schedule a Meeting button. From there, you can choose whether to set it as a recurring meeting, choose audio settings and edit phone numbers.
You can also easily send attendees an invite to join a call, or you can edit the meeting.

How do the features differ between iOS, Android and Windows phones?

Many features are the same across iOS, Android and Windows phones. There are some slight differences, however. On iOS, you cannot be promoted to a co-organizer, mute or unmute attendees or dismiss attendees from a session. On a Windows phone, you cannot share your screen or your camera. For a more in-depth feature comparison,

click here.

How do I join a meeting from an iOS device?

To join a meeting from an iOS device:

Ensure you have downloaded the GoToMeeting app from the App Store.
Join a session by doing any of the following:

Tap the Join URL option from your email or message app
After opening the app, tap Join a Meeting, enter your session ID and hit Join
Open the app and select the session on the Join a Meeting screen (if the app is connected to your calendar)

Wait to be launched automatically into the session. If you follow these steps, you should be able to quickly join a meeting from your iOS device.

How do I join a meeting from an Android device?

To join a meeting from an Android device:

Install the GoToMeeting app.
Join a session in any of these ways:

Tap the Join URL of the desired session from your messages or email
After opening the app, input the session ID or personal meeting page name and hit Go or the arrow icon
Open the GoToMeeting app and tap the meeting listed from your calendar app

If you follow these steps, you will be launched right into your meeting session. Keep in mind that some meetings are protected by a password. You should be able to find the password in the meeting invitation, or you can ask the organizer directly.
Return to the Top
Talk to a Specialist
Speak directly to one of our sales representatives by calling.
1 800 514 1317
Contact Us
Have questions? Want to see a live demo? We'll be in touch within 24 hours.
Contact Sales
Support
Check out our help center for answers to common questions.
Support
Free 14-Day Trial
Need more information?
Call Sales 1 800 514 1317