GOTOMEETING FEATURES
Presenter Control in Online Meetings
Change presenters so anyone can share their screen.
HOW IT HELPS
Take turns taking control.
A truly collaborative meeting is more than a one-person show. You may have the perfect presentation ready to go, but the real magic happens when the rest of your team can jump in and contribute. In person, it's as easy as walking up to the whiteboard. And when you're connecting remotely over the web, it's just as simple to do. As the online presenter in GoToMeeting, you can share content on your screen and then pass presenter control to another user whenever you need to. So if inspiration strikes one of your co-workers or clients, they can have their moment to shine, too.
WHAT YOU CAN DO
Cross-platform online meetings.
Giving an attendee the chance to be the presenter online is simple to do. Just select the person in the GoToMeeting attendee pane to see the option. Then when the meeting presenter role is passed, the attendee can share their screen in a click. Once finished, they can just as easily return online presenter control to you or hand it off to another attendee. You can even share keyboard and mouse control with someone else if you want to collaborate directly on one screen. GoToMeeting has all the tools you need to make collaboration a cinch as the online presenter. And that's just the beginning of what it has to offer.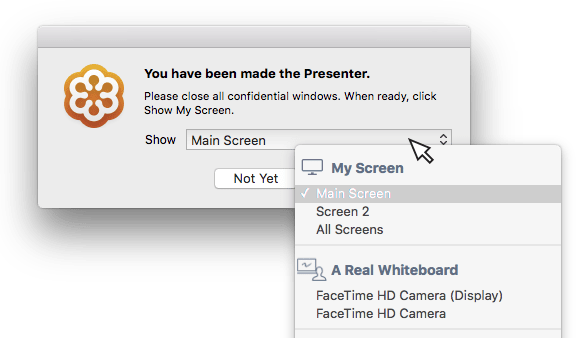 POWERFUL TECHNOLOGY
The online presenter's toolkit.
Every essential you'd want from an online meeting is here, plus many more advanced presentation features that improve the meeting experience.

• Instant and scheduled meetings
• Full-screen and single-application sharing
• Streamlined email and calendar integrations
• Built-in audio and high-quality video
• Drawing tools for creative collaboration
• Powerful mobile apps for iOS, Android and Windows
• One-click meeting recordings

We designed GoToMeeting to be the simple solution for professional communication. You can easily create and launch an online meeting, present your work and then let others take the stage – all without fumbling through confusing controls or cluttered menus.
GET STARTED
Now it's your turn.
Become an online meeting presenter in GoToMeeting and see what's possible when people can connect and collaborate from anywhere.
Register today for the free GoToMeeting trial
.
Once you've joined up, you'll go through a quick walkthrough before launching your first meeting. You'll learn the ropes fast, including how to share your screen and give control, connect to audio and share your webcam.
When you're ready to switch the online meeting presenter, here's how you do it. On a PC, click the Screen tab, open the "Change Presenter" drop-down menu and then select the attendee who should present next. On a Mac, simply click the "Change Presenter" button at the top of your control panel and choose someone to be the next presenter online. If you have any questions at all, our 24/7 support team is always ready to help.
Talk to a Specialist
Speak directly to one of our sales representatives by calling.
1 888 646 0014
Contact Us
Have questions? Want to see a live demo? We'll be in touch within 24 hours.
Contact Sales
Support
Check out our help center for answers to common questions.
Support
Free 14-Day Trial
Need more information?
Call Sales 1 888 646 0014