GOTOMEETING FEATURES
Online Meeting Recording
Easily capture the whole discussion with built-in GoToMeeting recording.
HOW IT HELPS
A clean record of what occurred.
Taking meeting minutes and notes verbatim deserves more kudos than it gets, because the benefits far outweigh the hassle. A lot can come out of a meeting, and if you didn't track the discussion, you're likely to forget the decisions. Not to mention those who couldn't attend. If people weren't there for the meeting itself, it's up to them to piece together what took place – often unsuccessfully. Fortunately, you don't have to designate a meeting recorder for each session. With GoToMeeting, everything's taken care of for you.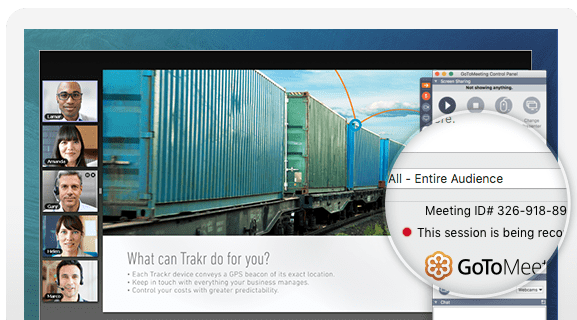 WHAT YOU CAN DO
Start, search and share meeting recordings.
Hosting an important meeting? Just click the record button. GoToMeeting automatically begins capturing the presenter's screen and everyone's audio. It doesn't matter whether you're sharing your entire monitor or a single application. It doesn't matter whether people are speaking through the computer audio or calling in from their phone. It's all recorded and stored locally or in the cloud (your choice!). The GoToMeeting
Smart Meeting Assistant
will even transcribe what was said automatically, so you can focus more on the meeting, less on notetaking. And once you've finished, it's simple to search through and share your recorded meetings and transcripts with others.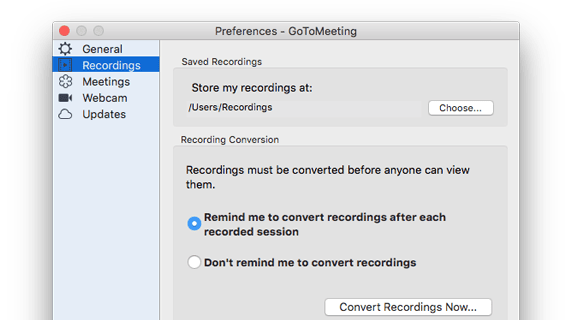 POWERFUL TECHNOLOGY
Online meetings worth recording.
If you want to record a meeting online, make sure it's one people will want to watch. GoToMeeting comes well stocked with advanced features to empower successful collaboration so you can be sure every meeting is one for the history books.

• Ad hoc meetings and scheduled meetings
• Live screen sharing/streaming with presenter switching
• Clear audio options, including VoIP, toll and toll-free
• Automatic meeting recording with transcription
• On-screen pen, highlighter and spotlight tools
• Easy-to-use email and calendar integrations
• Highly rated mobile apps for iOS, Android and Windows
GET STARTED
The best way to keep track.
GoToMeeting simplifies the way you record online meetings. One click and you have a clear recording to review or share with participants – especially useful for those who couldn't make it.
Start your free GoToMeeting trial today
and put your notebook to rest.
After you've signed up, we'll show you the essentials of the built-in meeting recorder, including how to start recording, playback the sessions, view your transcripts and share them out. So when it comes time to refer back to what happened at that big meeting, you'll be set.
Talk to a Specialist
Speak directly to one of our sales representatives by calling.
1 888 646 0014
Contact Us
Have questions? Want to see a live demo? We'll be in touch within 24 hours.
Contact Sales
Support
Check out our help center for answers to common questions.
Support
Free 14-Day Trial
Need more information?
Call Sales 1 888 646 0014