GOTOMEETING FEATURES
Personal Meeting Room
Create and customize a personal page for meetings that impress.
HOW IT HELPS
Personal meeting. Professional attention.
When you meet in person, there's a lot you can do to make a good impression. Smile. Dress right. Give a firm handshake. It's important to keep in mind for all business professionals – but especially for salespeople, where a poor first impression can lose you the deal. So when you meet online, what should you do to impress? With GoToMeeting, you've got plenty of options. One of the best is called GoToMeet.Me, where you can create a free personal online meeting room that people won't soon forget.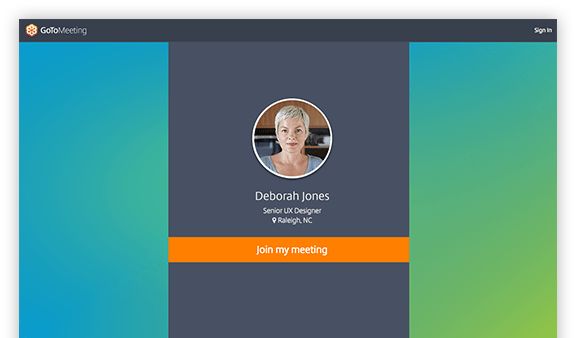 WHAT YOU CAN DO
Make the meeting yours.
Creating your free online meeting room begins with the URL. You pick what your GoToMeet.Me link will be, so go with something memorable (like a variation of your own name). Once done, you can add extra details about you and your business to the room, including your photo, title, website and location. The online meeting room is then yours to keep, so make it the place where all your online meetings happen. Participants get to see who you are and what you do before joining your session in just a click. It's an easy, professional way to introduce yourself.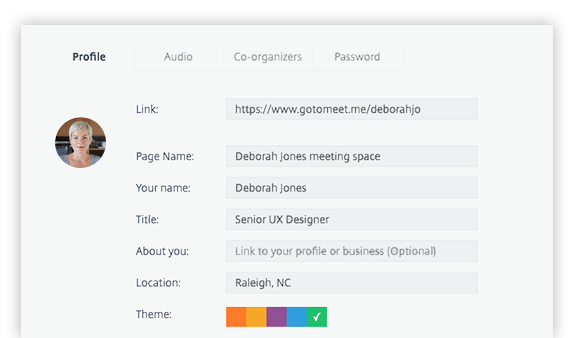 POWERFUL TECHNOLOGY
Set yourself up for success.
Your personal meeting room is a great start, but if you want to ensure the actual meeting is successful, you'll need to keep the momentum going. In a GoToMeeting session, you can rely on business-grade features to get things done.

• Get on the same page with online screen sharing or a single application sharing
• Connect through clear, built-in audio conferencing
• Collaborate face to face with HD video meetings
• Take advantage of on-screen drawing tools
• Streamline your workflow through integrations
• And more intuitive online meeting tools
GET STARTED
Reserve your free room.
Once a GoToMeet.Me page is reserved, it's taken for good. So if you want an online conference room in your own name, you better act fast.
Start your free GoToMeeting trial
and claim your own personalized online meeting room today.
After you've signed up, you'll immediately have the chance to set up your free personal online meeting room. If it's available, your name will automatically be suggested for the room link. If you prefer something else (or if it's already taken), you can enter another option. Don't worry if you're not yet sure what to choose – you can always edit the personal room name and link later. Once you've got your own URL, you're ready to meet and host online meetings. Simply share the link with attendees and start the virtual meeting when it's time.
LEARN MORE
Additional GoToMeeting Features
GoToMeeting Online Meeting Room FAQs
Frequently Asked Questions
What are the benefits of an online meeting room?

Online meeting rooms give you a personalized online meeting space that you can reuse again and again. Customize your room with your corporate colors and include a picture of yourself, a brand, product logo or any other image.

Online meeting rooms offer easy access through a personal, memorable link. Feature the link to your online meeting room on your website or simply share the URL with participants directly when you want to meet.

Participants can join your online meeting room via GoToMeeting from anywhere in the world, so no matter where you work, you'll always be ready to collaborate with co-workers and customers.

How do I create my own online meeting room?

Start a free trial of GoToMeeting, and you'll get your own online meeting room right off the bat. We'll walk you through the setup then, but you can always edit your choices later. If you're a current GoToMeeting customer and you haven't yet created your own online meeting room, follow these steps:

Go to global.gotomeeting.com.
In the navigation menu, select Settings.
Select Meeting room.
Click Let's get started!
Create a unique name for your meeting page. If the name is unavailable, you will be directed to choose another one. If the name is available, a check mark will appear next to the box. This name can be a part of your online meeting room's URL: "https://gotomeet.me/".
To finish, click Reserve.

Can I customize my online meeting room?

GoToMeeting offers a range of online meeting room customization options. When customizing your meeting room, you can:

Upload a picture of yourself via the avatar icon.
Change the name/URL of the meeting page.
Share personal information, such as name, job title, location and background.
Choose a color theme.
Select audio options for attendees.
Add co-organizers, allowing others to launch meetings on your page when you may not be available.
Designate a meeting password.

See what your meeting page will look like by selecting

Preview,

and once you're happy with your customization, select

Save

to finish.

How do I start a meeting in my online meeting room?

You have two options for starting a meeting in your online meeting room.

Navigate to the My Meeting Page and click Start your meeting.
Enter the URL of your online meeting room into your browser's address box. Click Join my meeting, and then select Start the meeting.

Once you've started the meeting, GoToMeeting will automatically launch.

How do I invite other people to my online meeting room?

Navigate to the My Meetings home page.
Click Share.
To copy relevant meeting information to send to your attendees, click Copy.

Alternatively, you can direct attendees to your online meeting room by having them enter your meeting page's URL into their browser address box.
Return to the Top
Talk to a Specialist
Speak directly to one of our sales representatives by calling.
1 800 514 1317
Contact Us
Have questions? Want to see a live demo? We'll be in touch within 24 hours.
Contact Sales
Support
Check out our help center for answers to common questions.
Support
Free 14-Day Trial
Need more information?
Call Sales 1 800 514 1317