GOTOMEETING FEATURES
Quick One-Click Meetings
Start an online meeting now with easy GoToMeeting integrations.
HOW IT HELPS
An easy way to save time.
Not a day goes by at work that you don't check your email or calendar. They're two of the most important tools for productivity – and yet, they're also huge time sinks. Managing your emails and events often takes much longer than you'd expect. It's why many people rely on instant-messaging apps for quicker communication. But even then, there's no replacement for talking face to face. So if you need to meet now, GoToMeeting can help. GoToMeeting integrates seamlessly with Microsoft Outlook via our GoToMeeting Outlook Plugin. We also have integrations for Google Calendar, Slack and HipChat, ensuring you can have one-click meetings whenever you need them.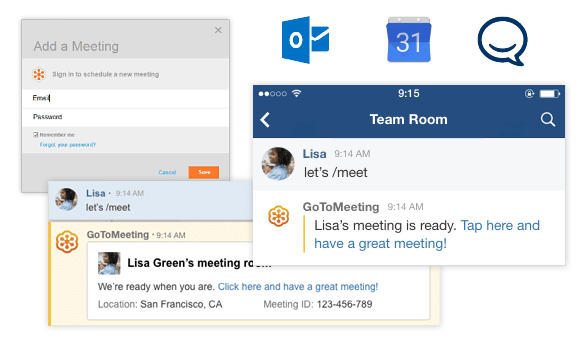 WHAT YOU CAN DO
Make the meeting yours.
Creating your online meeting room begins with the URL. You pick what your GoToMeet.Me link will be, so go with something memorable (like a variation of your own name). Once done, you can add extra details about you and your business to the room, including your photo, title, website and location. The room is then yours to keep, so make it the place where all your meetings happen. Schedule meetings with your GoToMeet.me room so invited participants can see who you are and what you do before joining your meetings directly in just a click. It's an easy, secure and professional solution to introduce yourself.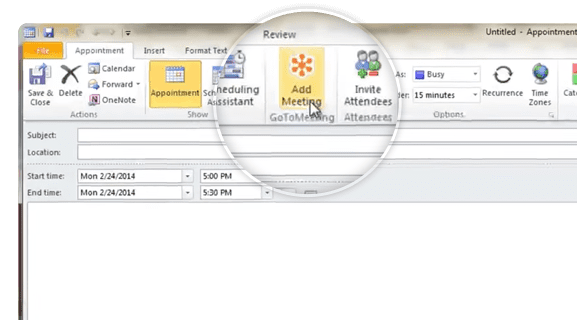 POWERFUL TECHNOLOGY
Partners in productivity.
Your email, calendar and instant-messaging apps are powerful by themselves, but why stop there? Adding GoToMeeting to each enhances your workflow in ways you wouldn't expect, especially when you consider the additional features of these one-click online meetings:

• Single-application and screen sharing
• Multiple audio conferencing options for attendees anywhere
• Video conferencing through HD webcams
• Simple presenter panel with easy options
• Built-in meeting recordings
GET STARTED
Time to kick things off.
Spend a little time upfront integrating your work apps and you'll thank yourself later. Productivity-boosting tricks like these make a big difference, day in and day out. So, if you haven't tried GoToMeeting yet, now's your chance.
Register today for the free trial offer
and start hosting online meetings in seconds.
As part of your trial, you'll go through a quick tour of what GoToMeeting can do. You'll be given the option to download the calendar integrations then, but you can always find them in Settings later. Looking to set up the HipChat integration too? Sign in to your HipChat account and head to the Marketplace to get GoToMeeting. If you need any help, follow the links below for step-by-step assistance.
Talk to a Specialist
Speak directly to one of our sales representatives by calling.
1 888 646 0014
Contact Us
Have questions? Want to see a live demo? We'll be in touch within 24 hours.
Contact Sales
Support
Check out our help center for answers to common questions.
Support
Free 14-Day Trial
Need more information?
Call Sales 1 888 646 0014