GOTOMEETING FEATURES
Screen Sharing Without the Hassle
Share your whole screen or just a specific application.
HOW IT HELPS
Share and share alike.
Sometimes, words just aren't enough. For effective teleconferencing, participants need to be able to see what you're describing. That's where GoToMeeting screen sharing comes in. Screen sharing ensures that everyone involved can view what's happening on your screen. Go over reports, collaborate on projects and find solutions to problems as though everyone were working from the same screen – because they are.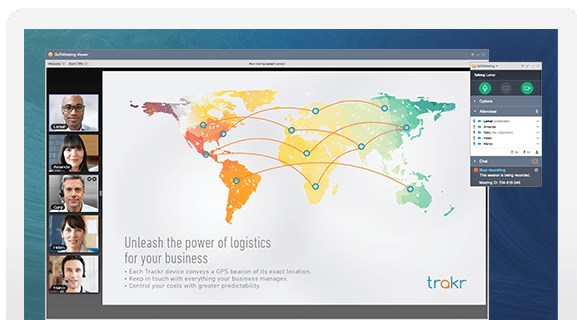 WHAT YOU CAN DO
Sharing made simple.
GoToMeeting screen-sharing software makes it easy to share content from anywhere at any time. Screen share while in the office from any PC or Mac computer or while on the go with an iPad. You have the option of showing everything on your monitor or only a single window – perfect for presentations. Additionally, GoToMeeting offers a range of intuitive, multi-channel support options. From user guides to video tutorials to free live training, GoToMeeting is committed to helping you do more with your screen-sharing software. In fact, the ability to share screens is only the beginning.
POWERFUL TECHNOLOGY
A problem shared is a problem halved.
Effective screen sharing means more than just being able to see each other's desktops, which is why GoToMeeting offers a variety of features:

• Full-screen and single-application sharing options
• Single-click meetings
• Audio and video conferencing options
• Robust organizer controls
• Presenter options
• Scheduling and calendar integration
• Seamless recording

Use remote screen sharing to conduct product demonstrations, share presentations, hold follow-up meetings and more – all without having to travel long distances to do so. With GoToMeeting available worldwide, online meetings have never been so attractive or simple.
GET STARTED
Try GoToMeeting today.
A picture is worth a thousand words, and with GoToMeeting screen sharing, you can put that value to work for you. Sign up today and take advantage of our
free GoToMeeting trial offer
. Once you've seen what screen sharing can do for your business, you'll wonder how you ever lived without it.
LEARN MORE
Additional GoToMeeting Features
Talk to a Specialist
Speak directly to one of our sales representatives by calling.
1 800 514 1317
Contact Us
Have questions? Want to see a live demo? We'll be in touch within 24 hours.
Contact Sales
Support
Check out our help center for answers to common questions.
Support
Free 14-Day Trial
Need more information?
Call Sales 1 800 514 1317