GOTOMEETING FEATURES
Dynamic Video Conferencing Solutions
Meet with anyone, anywhere, in HD.
HOW IT HELPS
The real face value.
Too many of us still rely on traditional telephone conversations to conduct business remotely. Although convenient, the phone limits collaboration. Video communication, on the other hand, makes it possible for you to talk directly with the people who matter most without missing all of those non-verbal cues that mean so much. With GoToMeeting, you can enjoy the benefits of face-to-face interaction, no matter how far away you may be.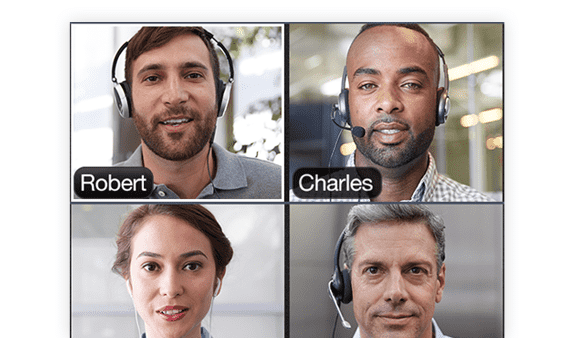 WHAT YOU CAN DO
See and be seen clearly.
Our solutions take video calling to a whole new level. Where video conferencing was once plagued by choppy video, unexpected outages, syncing problems, confusing controls and hardware/software incompatibility issues, GoToMeeting provides an uncomplicated, dependable and high-quality video option that will change the way you communicate. GoToMeeting keeps everyone on the line and in sync by automatically adjusting to the available bandwidth and hardware resources of each user.

Collaborate with multiple participants from anywhere in the world, across any platform or operating system: Mac, PC, iOS or Android. GoToMeeting ensures that if your device has a webcam and an Internet connection, you'll be ready for your next video meeting. Start or join sessions with a single click and explore new possibilities through easily available tutorials and multi-channel support options.
VIDEO CONFERENCING FEATURES
Showing up the competition.
Many video conference solutions can connect multiple users through video technology. But GoToMeeting includes a variety of state-of-the-art features designed for business.

• High-quality video
• Multistream HD technology
• Live screen sharing
• Specially designed mobile apps
• Single-tap meetings
• Free call recording
• Integrated scheduling
• Automatic bandwidth adjustment
• Cloud-based access

Your work is important, which means that every video call you make is important, too.
GET STARTED
See for yourself.
When it comes to hosting or participating in online meetings, quality matters. GoToMeeting is an easy-to-use, all-in-one solution that you can trust to keep your team connected.
Sign up today
and take advantage of our free trial offer. With GoToMeeting available worldwide, you won't have to worry about distance getting in the way again.
To see how it works once you've begun your trial, start a GoToMeeting session. You'll immediately notice the Control Panel that opens on the right side of your screen. This is where you can make meeting magic happen. Each feature is clearly marked, including audio, screen sharing and, of course, video conferencing.
If you're on a desktop, make sure your webcam is connected. If you're on a laptop, the device most likely has a webcam built in already. Either way, when you're set, simple click the webcam icon to start sharing your video. You can even preview what your webcam will show if you want to check your picture quality. You're now ready to collaborate face to face. Should you have any questions, don't worry. Our 24/7 support team is always ready to help.
LEARN MORE
Additional GoToMeeting Features
Talk to a Specialist
Speak directly to one of our sales representatives by calling.
1 800 514 1317
Contact Us
Have questions? Want to see a live demo? We'll be in touch within 24 hours.
Contact Sales
Support
Check out our help center for answers to common questions.
Support
Free 14-Day Trial
Need more information?
Call Sales 1 800 514 1317