GOTOMEETING RESOURCE
How the Best Online Collaboration Tools Can Help Grow Your Business
COLLABORATIVE PROJECT SOFTWARE
In today's flexible working culture, employees are traveling, working from home or otherwise not available for face-to-face encounters. That's where collaboration software can help. Thanks to the cloud, we can access collaboration tools from pretty much any connected device – mobile, tablet, desktop or laptop.
We offer an array of team collaboration tools for your business. Whether you're looking for software to help you run meetings, train or communicate, we have you covered.
How Collaboration Software Works
Collaboration software connects remote teams so they can work together on a project from start to finish. Collaboration software bridges the distance at every stage of your workflow. At a high level, the process could look something like this:
1. When inspiration strikes, easily share your ideas with co-workers over instant messaging, then transition into online meetings to wrap things up.
2. Present your finished work in a webinar and publish your recording on a video sharing platform to build even more awareness.
3. Finally, provide online training to teammates or clients to get them up and running.
We'll go more in depth on each stage in the following sections.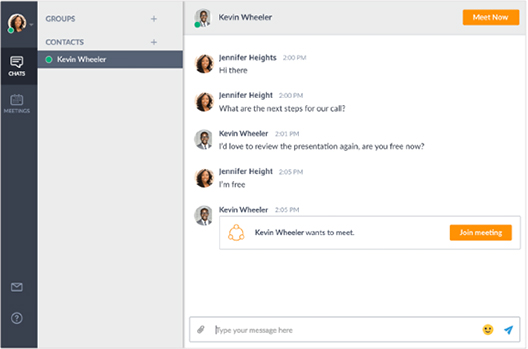 Online Collaboration for Quick Communication
Email may be essential to business communication, but it's not the greatest team collaboration tool. You need something more in the moment to empower and encourage teamwork. The faster your team can bounce ideas off one another and get answers to spur-of-the-moment questions, the better off your business will be.
Collaboration software that offers business messaging can check all the boxes you need for quick communication. GoToMeeting, for instance, allows you to:
See someone's presence (whether they're online, busy or away)
Share project files and chat with internal or external contacts
Brainstorm ideas in chat before seamlessly moving to an online meeting
Collaborate in real time with tools like screen sharing and video conferencing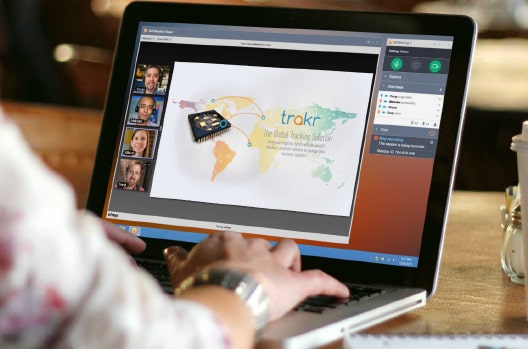 FEATURES YOU CAN RELY ON
The easiest, most cost-effective way to collaborate.
Get time-saving features like these in your collaboration toolkit:
Seamless Integrations
Seamlessly launch a meeting directly from our Microsoft Office or Google Calendar plug-in.
Smart Transcription
Skip the note-taking with searchable, automatic transcriptions of your meeting recordings.
Team Collaboration Tools for Presentations
When your team project has reached the point where it's ready for prime time, take a look at webinar software. With just one online event, you can reach thousands of people at the same time. Webinars are the perfect platform for your presentations, whether you're looking to inform your entire enterprise or announce new features in the market.
For the best experience, your webinar software should offer a smooth workflow from preparation to presentation.
It should integrate with marketing automation systems to streamline participant communication and include practice sessions so you and your panel can get comfortable with the controls.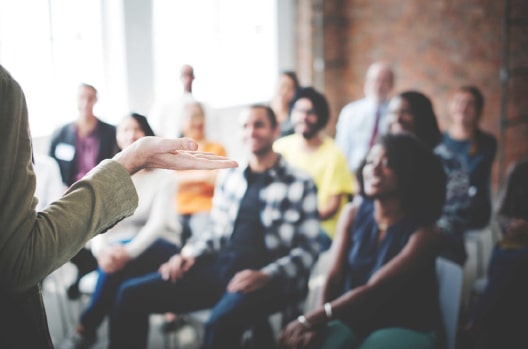 THE RIGHT WEBINAR SOFTWARE
Simple to schedule - and even easier to host.
Get time-saving features like these in your collaboration toolkit:
Screen Sharing
During the live event, you can share your screen and show your webcam in real time.
Mobile Collaboration
To make things more interesting, GoToWebinar lets you interact with your audience through polls and Q&A. You can even see who's paying attention with a live engagement monitor.
A Collaboration Software that Promotes Your Business
Live webinars aren't the only game in town for building brand awareness. They're just a crucial step in the process. Once you've found your webinar software provider, you should explore the different channels for sharing your recordings on a wider scale.
But while there are many video sharing platforms available to choose from, there aren't many that target business professionals. That's where GoToStage shines. With an audience of over 60 million professionals, you can be sure you'll find the right prospects. People who attend GoToWebinar sessions are invited to the platform to discover new content like yours.
Even better, GoToStage integrates seamlessly with GoToWebinar, so you can publish your recordings in a single click on your own Channel page, which you can customize to fit your brand. And thanks to search engine optimization, GoToStage can quickly become the one-stop shop for all your webinar and video content.
Collaboration Platform for Learning
Online learning is getting bigger in businesses of all sizes. The combination of ease of access and affordability has made it a popular option alongside traditional workshops. With the right collaboration tool for training, you can quickly get your team up to speed or educate new clients on projects you're managing.
When it comes to online training software, real-time screen sharing is a must-have for keeping learners engaged, as well as online course catalogs, breakout sessions and testing. These help you provide interactive, effective training – and then make sure it sticks. With an online learning solution like GoToTraining, you can even offer certificates to your learners for course completion.
After your events, GoToTraining offers robust reporting so you can track your learner's attendance and performance. If someone missed the live event, GoToTraining makes it simple to share the recording. You can also offer the recording as a complete course. Learners can register to watch the recording, download the handouts and then take the tests. So no matter where your team works or what time zone they're in, they can still take part in your training.
OUR CUSTOMERS SAY IT BEST
See how our collaborative software stacks up.
LogMeIn has demonstrated a focus on innovation with its deep metrics about quality and usage trends, speech-to-text transcription and integration with the Amazon Alexa smart assistant, all of which enhance a portfolio that suits most enterprise use cases.
With easy-to-use features that improve productivity, GoToMeeting empowers people to collaborate in meaningful ways in order to facilitate more creativity and better business outcomes.
GoToMeeting is very useful to organize a meeting for a group of people. Also, it haves a lot of different useful functions that are making this software very pleasantly to use.
Put GoToMeeting to work at your company.
Enjoy the benefits of business video conferencing with a free GoToMeeting Trial today.
Need more information? Call Sales 1 888 646 0014