SCREEN SHARING MADE SIMPLE
How to Share Your Screen on a PC
Easily host demos, share ideas and work together in GoToMeeting.
HOW IT WORKS
Watch how to share your desktop screen
Effective teamwork depends on more than just talking. To really get to the heart of things, you need to be able to see what others are working on. Screen sharing gives you the power to collaborate face to face, even when your meeting participants are a world away. Share feedback with colleagues. Host demonstrations for sales leads. Coordinate with clients in real time. With GoToMeeting screen sharing for your PC, communication has never been clearer.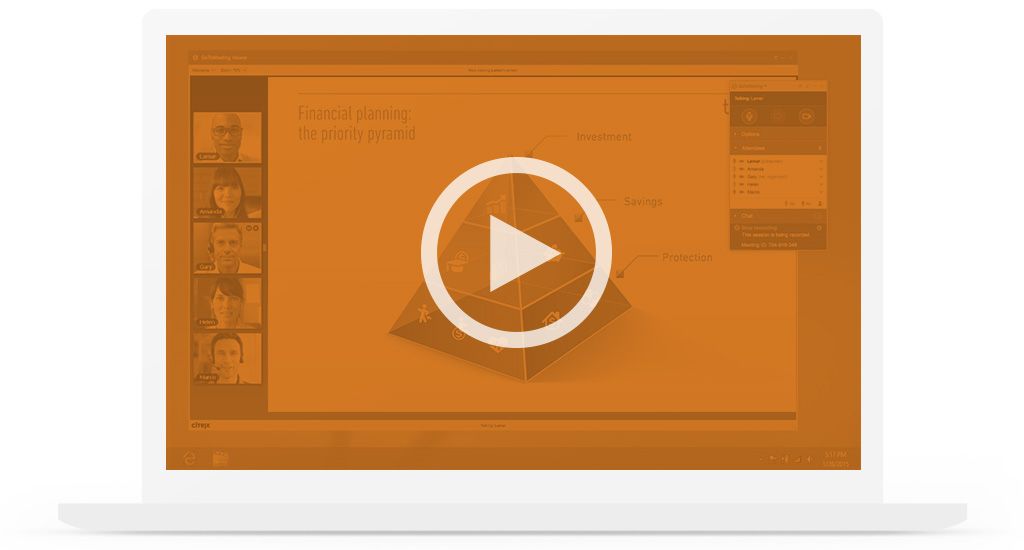 GETTING STARTED
7 steps to screen sharing on PC
GoToMeeting makes it easy to share your screen from PC to PC – or to any other device. Just sign up for GoToMeeting and follow these instructions to begin screen sharing today.
1.
Sign in
at www.gotomeeting.com and launch a meeting on your desktop. Prefer browser-based screen sharing? Open Chrome or Firefox and start your meeting at
app.gotomeeting.com
instead.
2. Click the
Screen
icon on your toolbar. This pulls up a list of screen-sharing options for you to pick from. You can display one or multiple monitors, hide your desktop and even share specific applications by themselves. Click
Share
when you're ready
3. If you want to select a new view, open the
Screen Sharing
tab.
4. Click the first drop-down menu to see a list of all available views. Options listed as "Clean" mean that your tabs and taskbars will not be displayed.
5. Hover your mouse over one of the options. GoToMeeting will show a preview of what your attendees will see. Once you've decided, click the option to switch to that view. Have more than one presenter lined up for your meeting? As the meeting organizer, you can easily let other attendees step up to the plate.

6. In the Attendee tab, click the name of whoever would like to screen share and select Make Presenter. That attendee will be notified they are now the meeting presenter and asked to show their screen. Remember, you can take back presenter rights at any time during the meeting. If you're using the desktop app, you can also give an attendee control of your screen while you're still the meeting presenter.

7. Open the Keyboard & Mouse drop-down and choose a name. This is helpful if an attendee wants to collaborate on the content you're sharing.
SCREEN SHARING BEST PRACTICES
Tips for sharing your PC screen across different devices
Sharing your PC screen with Mac users
People on Mac can join seamlessly from their web browser or jump into the GoToMeeting desktop app for access to more features. These attendees can easily zoom or go full screen to see what you share from your PC in real time. If you want, you can also pass presenter controls so they can share their screen as well.

Sharing your PC screen with iOS users
Attendees joining from the GoToMeeting app for iOS might have a hard time seeing your entire PC screen, so show single applications instead. Let them know they can double-tap or pinch anywhere on the screen to zoom as well. Attendees on iPhone or iPad can take a turn presenting too, and you will see their entire device screen on your PC.

Sharing your PC screen with Android users
Like the iOS users, attendees on Android devices have less screen space, so the same advice applies. Share individual applications rather than your whole PC screen and make sure they know to zoom in with touch controls. And of course, GoToMeeting for Android lets attendees share their screen so they can present if needed.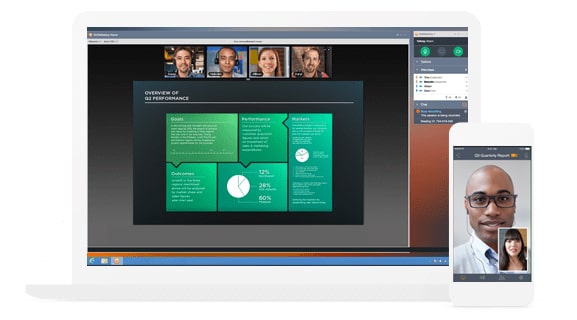 READY, SET, GO!
Sign up for GoToMeeting today
Knowing how to screen share on a PC opens up an entire world of collaboration opportunities. And, thanks to the simple GoToMeeting control panel, you'll also know how to share your screen on any other device you choose to use. You can even screen share right from your browser with the
GoToMeeting web app
.
Talk to a Specialist
Speak directly to one of our sales representatives by calling.
1 800 514 1317
Contact Us
Have questions? Want to see a live demo? We'll be in touch within 24 hours.
Contact Sales
Support
Check out our help center for answers to common questions.
View Topics
Try GoToWebinar free for 7 days.
Or contact us to learn more about live webcasting for larger events with GoToWebcast.
Call 1 800 514 1317