GoToMeeting
Simple, professional screen sharing
Share your whole computer screen or just a specific application.
HOW IT HELPS
Enhance meeting efficiency
GoToMeeting allows you to display your entire screen, multiple monitors or specific applications at any time. It's an incredibly easy way to show your meeting attendees exactly what you're talking about, keeping meetings on track and everyone on the same page. Quick team stand-ups, weekly status updates and in-depth project reviews – our customers use our online platform to share their screen in all types of meetings.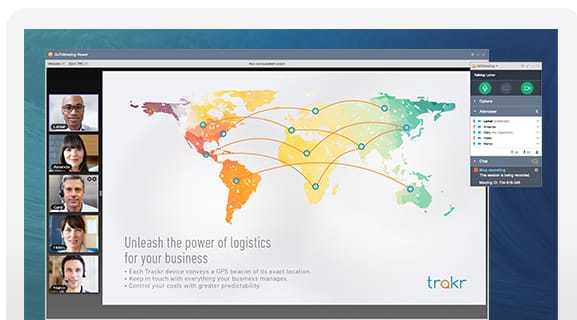 POWERFUL SCREEN SHARING TECHNOLOGY
A problem shared is a problem halved.
To make your meetings successful, sharing screens is just the start, which is why GoToMeeting offers a variety of professional features:

• Full-screen and single-application sharing options
• Single-click meetings
• Audio and video conferencing options
• Robust organizer controls
• Presenter options
• Scheduling and calendar integration
• Seamless recording

Share your screen remotely to conduct product demonstrations, present slides, hold follow-up meetings and more – all without having to travel long distances to do so. With GoToMeeting available worldwide, online meetings have never been so simple.
No install, no problem.
Take advantage of web screen sharing
Web-based screen sharing doesn't just connect you quickly – it also opens the meeting to many more people. Some meeting solutions and screen sharing programs struggle with firewall permissions and platform support, which can stop you from starting meetings and prevent others from joining. GoToMeeting solves the problem by offering an easy screen sharing website experience in the Chrome and Firefox web browsers. That means anyone in a software-restricted environment or on a unique operating system can see your screen sharing without installing a screen sharing app.
LEARN MORE
Explore our screen sharing apps for other devices.
Screen Sharing for Mac
GoToMeeting for Mac computers works just like it does on PC. Share your screen in seconds and experience seamless collaboration across devices.
iPhone App
Stay connected from anywhere with GoToMeeting for iPhone. Share your entire screen on iPhone, including apps, settings and your home screen.
Android App
Professional meetings, right in the palm of your hand. The GoToMeeting app for Android makes it simple to share your smartphone's screen for on-the-go updates.
Why Screen Sharing?
Take your meeting to the next level.
Present, Train, Demo and Collaborate

Share presentations, reports, demonstrations and training sessions with everyone on the call. Use the spotlight and drawing tools to annotate or call out certain parts of your screen or presentations in real time.
Share Keyboard and Mouse Control

Transfer control of the presenter's keyboard and mouse to other other attendees for better collaboration.

Read more
HDFaces Video Conferencing

Share your webcam in real time while also sharing your screen to make your meetings more personal and productive.

Read more
WHY GOTOMEETING?
Real-world sales success.
Athena Software, a provider of case management software, uses GoToMeeting screen sharing software for sales demos:
We wanted to demo our product and be sure it's a solution that's going to work for them. Potential clients need to see what we're doing. They need to see directly how the technology works. We were looking for something easy to use that would enable us to do that and we found GoToMeeting. It was like going to Disneyland.
With GoToMeeting, I can control and share my entire sales theater. I can hear and see what people are doing, and they can see me. We can establish that relationship, and I can completely control the flow of what we're presenting. It was a really big jump for us, and we use it now for everything. GoToMeeting is standard issue at Athena.
FAQs
Get answers to all of your questions.
What is screen sharing?

Screen sharing refers to the act of sharing your computer screen with other participants in online meetings or presentations. Online screen sharing is available at the click of a button in many online meeting platforms and apps, including GoToMeeting. Most online meeting providers will allow you to screen share from any device as well.

What are some useful tips for screen sharing?

- Test the screen sharing feature before your first the meeting
- Notify meeting participants before sharing your screen
- Turn off any desktop notifications so they don't interrupt your screen sharing
- Ensure your internet connection is solid
- Have any necessary documents or files set to go



Can someone else in my meeting share their screen?

Yes. With GoToMeeting, it's simple to let other participants to share their screen. Just select a participant's name from the dropdown list to invite them to share their screen.

Learn more

How do I screen share if I use the GoToMeeting web application?

It's easy to screen share using the GoToMeeting web app. On Firefox, you'll be ready to go right when you join. On Chrome, you'll need the

GoToMeeting Pro Screensharing Chrome extension

first. In order to screen share:

Click the Screen icon.
Select an option for sharing your screen.
To stop screen sharing, click the Screen icon again.
To invite another participant to screen share, select their name from the attendee list and click Make Presenter.


Can I share my Mac screen?

Yes, with a GoToMeeting account, you can share your Mac screen with people on any other device. It's simple to screen share on a Mac – just click the

Screen

icon in the GoToMeeting toolbar. For more information on how to share screen on a Mac and what you can do, visit

this page

.

Can you share your iPhone screen?

Yes, with GoToMeeting, you can share your iPhone screen. Meeting attendees on other iPhones, as well as Android or desktop devices, will see what you present in real time. For more information on screen sharing from iPhone, visit

this page

.
Return to the Top
Sign up for our free GoToMeeting Pro trial.
Unlimited screen sharing is included on all GoToMeeting plans, including GoToMeeting Free.
No credit card necessary.