WEBINAR PLATFORM COMPARISON
Why More Customers Choose GoToWebinar

More Reliable
93% of users who have tried or evaluated ON24 say that GoToWebinar is more reliable.* *Source: TechValidate Survey

Better Features
93% of users who have tried or evaluated ON24 say that GoToWebinar has better features.* *Source: TechValidate Survey

Superior Support
93% of users who have tried or evaluated ON24 say that GoToWebinar has better training and support.* *Source: TechValidate Survey
ON24 VS GOTOWEBINAR
Reasons to Make the Switch from ON24
Ease of Use
GoToWebinar is so easy and intuitive you can set up a webinar in minutes. With our self-serve platform you'll feel confident presenting in front of live audiences in no time. But if you want us to run your webinar, our Event Services team is here to help. GoToWebinar gives you the flexibility to update presentations on the fly and seamlessly transition from showing slides, video, a software demo, or anything else you want to share on your screen.
Proven Scalability
More customers choose GoToWebinar than any other webinar platform. We have more than 50,000 customers who host 2.7 million webinars every year. With GoToWebinar, you get a flawless webinar experience for up to 3,000 attendees.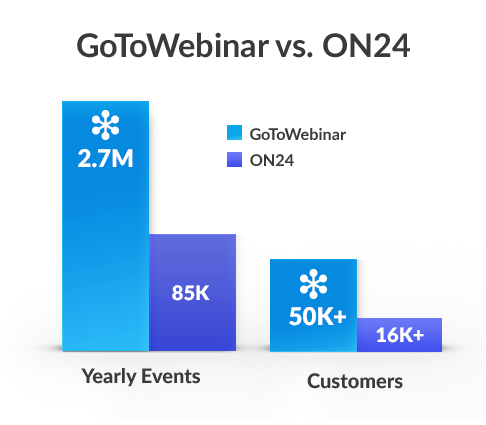 Actionable Insights
Get instant insights on webinar registrants and attendee behavior in one convenient dashboard. You can also download detailed reports you can use to follow-up with attendees and improve your webinar for next time.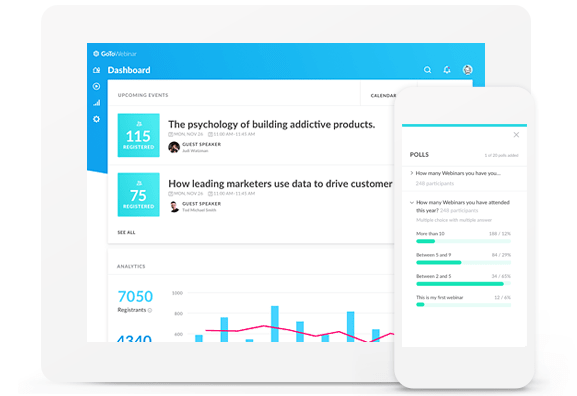 Integrations
GoToWebinar integrates with your marketing automation, CRM tools, and more to streamline your workflows and push your webinar data where you need it.
Zoho CRM
Zapier
Hubspot
Marketo
Salesforce
Eloqua by Oracle
Leadpages
Infusion Soft
Unbounce
Click Funnels
ActOn
AWeber
Click Dimensions
Instapage
Skilljar
ActiveCampaign
Formstack
Ontraport
Calendly
WordPress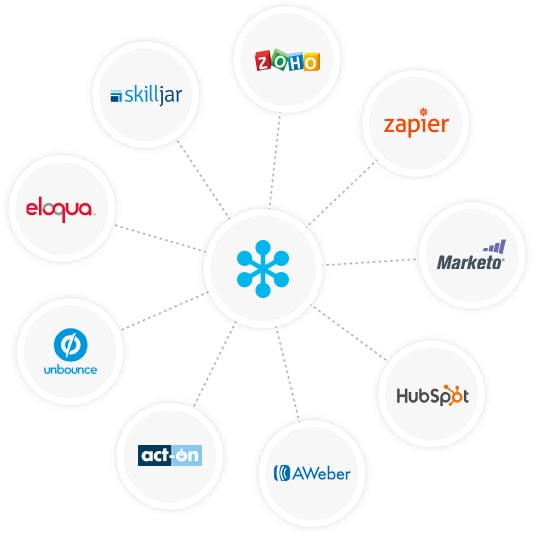 We've found that prospects who attend one of our weekly live-demo webinars are 150% more likely to purchase than those who don't.

We're a company that's building the customer success category. Webinars are one of the key way's we're doing that.

With GoToWebinar, we reach thousands more leads, deliver value to our current leads and make our existing customers more successful.
Looking for More Resources?
We want to get the most out of your webinars. Check out these resources for all the tips, tricks and best practices you need for standout webinars.
Have Questions?
Contact us to see GoToWebinar in action and learn more about which webinar platform is right for you.
Request a Demo