WEBINARS MADE EASY
How to Create and Host a Webinar
Ace your next online webinar with these best practices.
Sharing Your Vision Just Got Easier

If you know how to plan and run them effectively, webinars are a great way to connect with current and future customers. A great webinar can be used for lead generation and nurturing, as even a free webinar brings a number of attendees together to learn from your brand. Follow-up emails after a webinar event with a call to action to become even more involved with your brand can help people take the next step toward becoming loyal customers who are passionate about spreading your message.
Set Your Webinar Apart

Running a successful webinar is a challenge, whether it's your first webinar or your hundredth. A great webinar must engage audience members, feature interesting subject matter, and have a compelling call to action. Above all, a high-quality webinar will help establish your brand as a thought leader in your industry.
Choose Your Webinar Format

Webinar presentations can be held as a live event, a pre-recorded one or even an online video class or "webinar course" of sorts where you teach attendees relevant skills that build on each other step-by-step. You might even send out the webinar powerpoints before the next webinar to help students study and prepare for the next class or webinar topic. Whether you host real-time webinars or make your webinar content available on demand, webinars can be a great tool for lead generation.
Integrate with Marketing Campaigns

A great webinar can serve as excellent content in an email marketing campaign and you can use it to provide valuable content to your entire email list. You might decide to drive people to a landing page where they can sign up for a free webinar. After they enter their information through the webinar registration page, you can continue your webinar marketing campaign by sharing your unique industry-specific know-how. For instance, if your company specializes in social media, as a webinar host, you could share tips about leveraging social media for lead generation. Let webinar attendees ask follow-up questions through the chat box, and also offer to send the powerpoint slides so they can review them after the webinar.
HOW IT WORKS
Watch how to schedule and host a webinar
Online webinars make communication with prospects, employees, partners and customers easy and efficient. Webinars are online events that combine HD video, integrated audio, live polls and more to engage audiences from anywhere. You can give presentations, perform product demonstrations and deliver world-wide messages to thousands of people at a time. And if you create webinar content that is informative and memorable, you'll get great results. Follow the best practices below on how to create a webinar to resonate with your audience.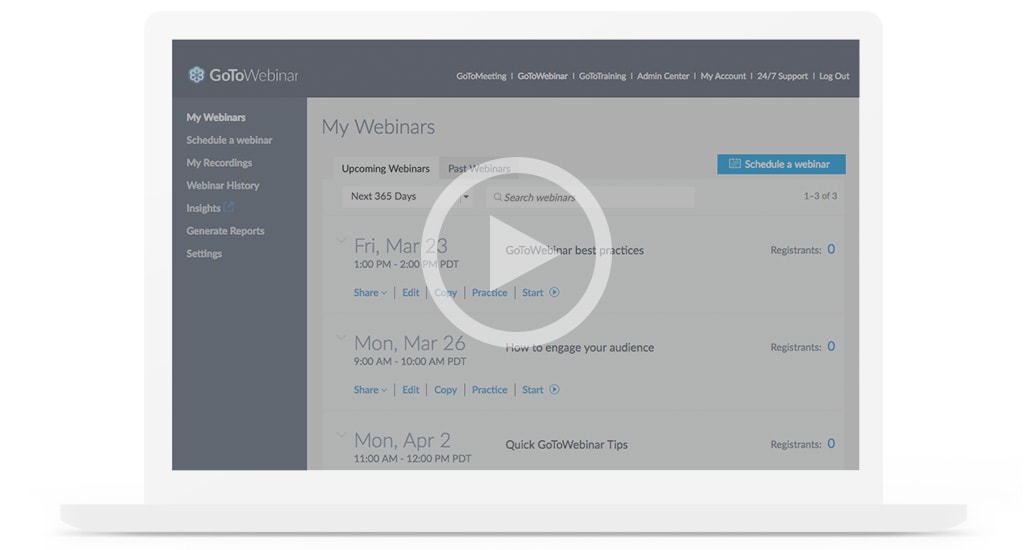 BEST PRACTICES
10 steps to create and host great webinars
Online webinars make communication with prospects, customers and employees easy and efficient. To create and host a webinar simply follow these steps:
Step 1. Choose a date and time.
Schedule your webinar for a time that works well for attendees in different time zones.
We recommend Thursdays
at 12:00pm PST/ 3:00pm EST.
Step
2. Choose your webinar topic.
Make sure the topic will
inform and motivate attendees
. If the subject matter calls for it, guest speakers are always great.
Step 3.
Customize your branding.
Choose a theme for your webinar, pick a relevant image for your landing page and add your logo to make sure the design reflects your brand.
Step 4. Create a hashtag for your webinar
.
Successful webinars require promotion. Creating a hashtag is a great start, and it gives people an easy way to talk about it on social media.
Step 5. Send out your webinar invitations.
This is when you should really publicize the event. Send the invite to your email list. Post about it on your website or blog. Use the hashtag on
social media
. Get creative and you'll get more people to attend.
Step 6. Build webinar content.
Take care with the content you'll present during the webinar. Engaging slides, polls and handouts will make a
big difference
.
Step 7. Do a practice run.
Get your speakers comfortable with the webinar controls and make sure things go smoothly by doing a test run using the webinar software or tool beforehand
Step 8. Host your webinar.
The day's arrived. This is when your preparation pays off. Don't forget to
record your webinar
as well in order to upload it to a video-sharing platform or your website later!
Step 9. Follow up.
Check up on your attendees shortly after the webinar, preferably within 24 hours. Ask whether there are any more questions or requests.
Step 10. Make your webinar recording available.
A recorded webinar is a great way to keep generating leads long after you've finished hosting. Publishing the recording can broaden your reach and attract extra interest for the product, service or information you offer.
THE BUSINESS CASE FOR WEBINARS
What are the benefits of hosting a webinar?
Knowing how to do a webinar is one thing, and knowing why you should is another.
Reach and qualify more prospects, more often.

With just a few simple steps, webinars can help you generate more qualified leads in your target market than you would get through other channels.
Build greater brand awareness.

Showcase your products and business through online events where you can easily engage your audience and drum up interest.
Present to more people in less time.

You can have up to 2,000 people attend your events with GoToWebinar. This helps you effectively share your message to a wider audience.
Conduct cost-effective employee meetings.

Webinars work great for internal presentations, too. Even if you have offices all over the country, they can get the same presentation in real time.
Reach and qualify more prospects, more often.

When you know how to host a webinar, you no longer have to gather everyone in one physical location for presentations, which cuts down on travel costs.
Engage audiences with HD video.

Even the best message can get muddled if the video quality is poor. GoToWebinar allows up to six presenters to jump on HD webcams for better engagement.
Expand reach with reusable content.

Record your webinar and post it everywhere to reinforce your brand and marketing manager. GoToWebinar captures your screen, audio and webcams.
Streamline your marketing processes.

Integrate GoToWebinar with your customer relationship management (CRM) solution to manage your lead generation and event creation in one place.
ESSENTIAL WEBINAR FEATURES
Easy, engaging webinars with GoToWebinar
GoToWebinar offers a full suite of webinar features to ensure that you get the most out of your webinars.
Email automation
Create custom email invitations, confirmations and reminders – or let GoToWebinar handle it with automated email templates.
Custom branding
Display your company logo and upload a custom image on all webinar materials to reinforce and promote your business brand.
Audience interaction
Create up to 20 polls before the session or on the fly. Add up to 20 questions to a survey and engage your participants with Q&A.
Videos and handouts
Show high-quality videos and share valuable content to build excitement and keep your brand top of mind.
Webinar recording
Expand your reach by recording your webinar to share with absent attendees or publish on a video-sharing platform. Learn More
Reporting and analytics
Get the data you need to identify qualified leads and track which channels drive the most registrations.
GETTING STARTED
How to create a webinar in GoToWebinar
If you're ready to begin, follow these steps to schedule your first online event in GoToWebinar.
1.
Sign in
to GoToWebinar.
Don't have an account?
Start a free trial
.
2. Click the
Schedule a Webinar
button.
3.
Specify the details of your webinar.
This includes the title and description of the webinar as well as the session type, date, time and time zone.
4. Click
Schedule
when you're finished.
5. On the Manage Webinar page,
customize your webinar settings
by clicking edit next to the section you'd like to change.
6.
Set up reminder emails
by clicking edit right beside the Reminder Email setting.
PRESENT WITH CONFIDENCE
Final tips for running a webinar
Sometimes the unexpected can happen, even when you know the ins and outs of how to conduct a webinar. While you can't always be fully prepared, here are several tips that will not only help your webinar be successful but make it engaging and informative for everyone.
Promote your webinar early and often.

When promoting, it's best to start at least a month in advance. But put in extra effort at the end! The majority of registrations occur in the last week.
Add presenter bios to the registration page.

People join webinars to hear thought leaders speak. Add social authority to your landing pages by featuring the speakers' photos and bios.
Create polls to get attendees involved.

Polls are an awesome opportunity to engage your audience. They're also a valuable source of feedback and audience insights.
Connect to the Internet by cable.

Since Wi-Fi can be spotty at times, make sure your computer is connected to your router by a cable. This will keep your broadcast smooth.
SIMULATED LIVE
Scheduling pre-recorded webinars
Once you know how to set up a live webinar, take advantage of other useful features in GoToWebinar like Simulated Live.
Automate everything.

Simulated Live

simplifies the webinar experience by automating the entire event. Your webinars can run themselves without you even having to be there!
Reuse your recordings.

To use Simulated Live, just select Simulated Live when you schedule a webinar in GoToWebinar. Pick the recording you want to use, schedule it to auto-play (or make it available on demand) and then sit back and relax.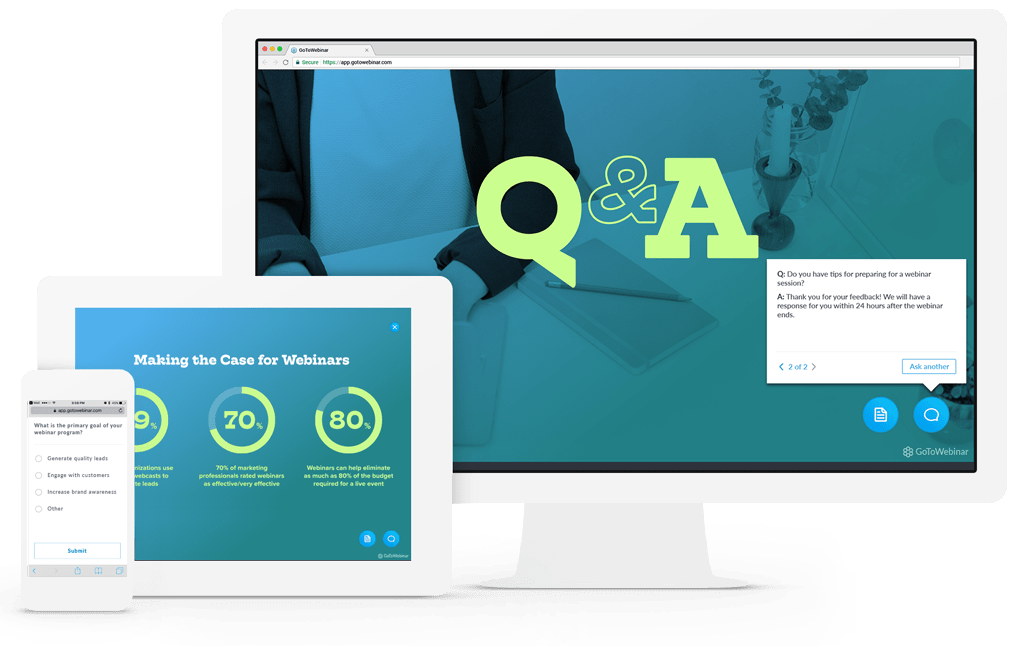 FAQs
Get answers to all of your webinar questions.
How long should a webinar be?

While there are no specifications for how long a webinar should be, most webinars are around 30 minutes to one hour long. The best webinars include time to interact with attendees via surveys or a question and answer session. If webinars are used for training purposes, they may last longer than an hour. The key is to engage and interact with your audience, regardless of the length of the webinar.

How do I record a webinar?

To record a webinar with GoToWebinar, simply hit the

Start Recording

button on your organizer control panel. If you want, you can also customize your recording settings beforehand by selecting

View

and then

Recording

. This will open up your recording pane where you can . click

Settings

and adjust your audio and video options. Be sure to save your settings! Step by Step detail can be found

here.

What equipment do I need to run a webinar?

In order to hold an effective webinar, you'll want the following equipment:

A device that can connect to the internet. A laptop, desktop or tablet will work.
Audio input (a headset is best, but your device's built-in microphone will also work)
Webcam (if you'd like to do a video broadcast)

What is GoToWebinar?

GoToWebinar is an easy-to-use solution that enables businesses and sole proprietors to easily host webinars. GoToWebinar has a number of use cases and innovative features that enable rich and engaging webinars for connecting customers to brands.

How much does a webinar cost?

The cost of a webinar is minimal. With Wi-Fi now available in almost all parts of the world, webinar attendees can connect with little to no cost. The main expense for a webinar host is the purchase of a webinar solution and any necessary hardware. That said, many effective webinars can be held using existing computer or laptop hardware. Find our more about pricing and plans on

GoToWebinar pricing

page
Return to the Top
Talk to a Specialist
Speak directly to one of our sales representatives by calling.
1 888 646 0014
Contact Us
Have questions? Want to see a live demo? We'll be in touch within 24 hours.
Contact Sales
Support
Check out our help center for answers to common questions.
View Topics
Try GoToWebinar free for 7 days.
Or contact us to learn more about live webcasting for larger events with GoToWebcast.
Call 1 888 646 0014