RECORDING WEBINARS
How to Record a Webinar
Learn how easy it is to record a webinar with GoToWebinar.
HOW IT WORKS
Watch how to record a webinar
Choosing a good platform for recording a webinar can be difficult. But it's worth the effort. By offering your recordings as on-demand webinars, you can expand your reach, deliver value and generate leads long after the live event has ended. In GoToWebinar, recording a webinar is quick and simple. Here's what you need to do as the presenter to record your webinar.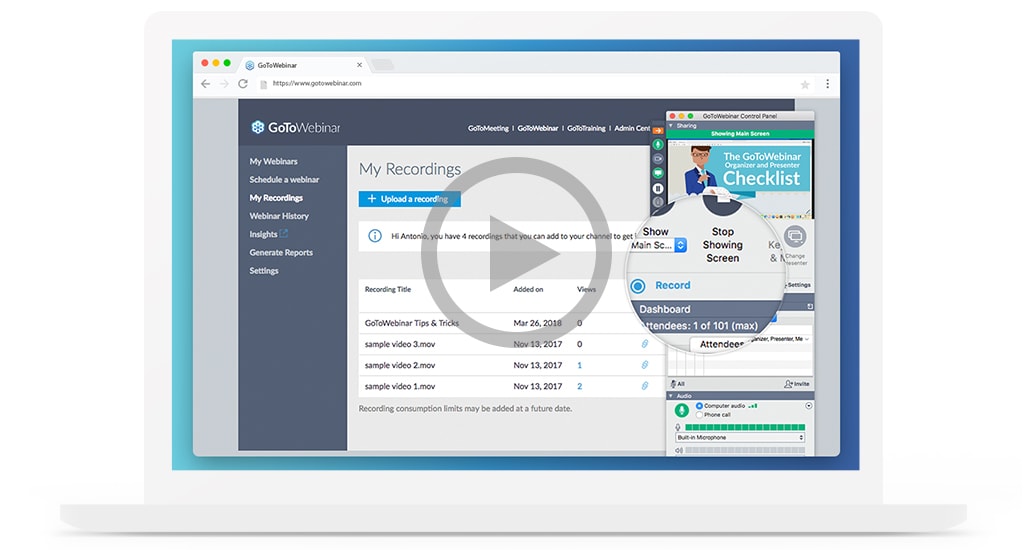 STEPS TO FOLLOW
Setting up your webinar recordings
Before the webinar begins, you can easily manage how and where GoToWebinar records your webinars:
1. Access your settings.
Sign in to GoToWebinar
. Don't have an account?
Start a free trial
. Next, select
Settings
in the menu and then click on the
Recording
tab.
2. Enable auto-recording.
If you'd like recording to start automatically when you begin the webinar broadcast, select
On
under the "Auto-record" section. (If you want auto-recording on specific webinars only, head to the Manage Webinar page and click Edit under the "Auto-record" section.)
3. Select where recordings are saved.
Choose the "My Recordings" option to automatically save your recordings to your online account in the My Recordings page. Or, choose the "raw file" option if you prefer to save your recorded sessions on your local hard drive.

4. Add webcams to recordings.
Check the Include webcams in the recording box if you'd like to capture the shared webcams in addition to the screen-sharing content and audio. Note that this option is only available for online recordings. It also increases the file size. Select Save.
QUICK TIP
How to start a webinar recording in session
In case you decide to leave automatic recording off, here's how to do it manually:
Step 1. Start your session.
While in session, start the broadcast and share your screen.

Step 2. Set up your recording.
GoToWebinar has recording abilities built in so there is no need to download an external screen recorder. Simply click Start Recording (Windows) or Record (Mac) at the bottom of the Screen Sharing pane. This will begin the recording of your screen. If you're recording locally, you'll need at least 5 GB of available hard drive space.
Step 3. Stop your recording.
When you're finished, select Stop Recording in the Screen Sharing pane. It is that easy!

Step 4. Convert your files if needed.
If you're using local recording instead of online recording, convert the file using the Recording Manager after the session ends.
WEBINARS MADE EASY
Easy-to-use interface for hosting webinars
GoToWebinar makes managing webinars simple so you can focus on nailing your presentation.
Plan
All you need to do is fill out a form. Once you've entered your webinar's details, GoToWebinar will create a registration page and an invitation email that you can use to get people signed up.
Present
Hosting a webinar is easier than you think. You can present from your computer just as if you were actually there in the room with everyone else. Engage with attendees through Q&A, HD video conferencing, surveys, polls and more.
Profit
The ease of GoToWebinar allows you to deliver engaging webinars frequently. That means you can get your message out to bigger audiences, resulting a greater return on investment.
SIMULATED LIVE
Scheduling pre-recorded webinars
Once you know how to set up a live webinar, take advantage of other useful features in GoToWebinar like Simulated Live.
Automate everything.

Simulated Live

simplifies the webinar experience by automating the entire event. Your webinars can run themselves without you even having to be there!
Reuse your recordings.

To use Simulated Live, just select Simulated Live when you schedule a webinar in GoToWebinar. Pick the recording you want to use, schedule it to auto-play (or make it available on demand) and then sit back and relax.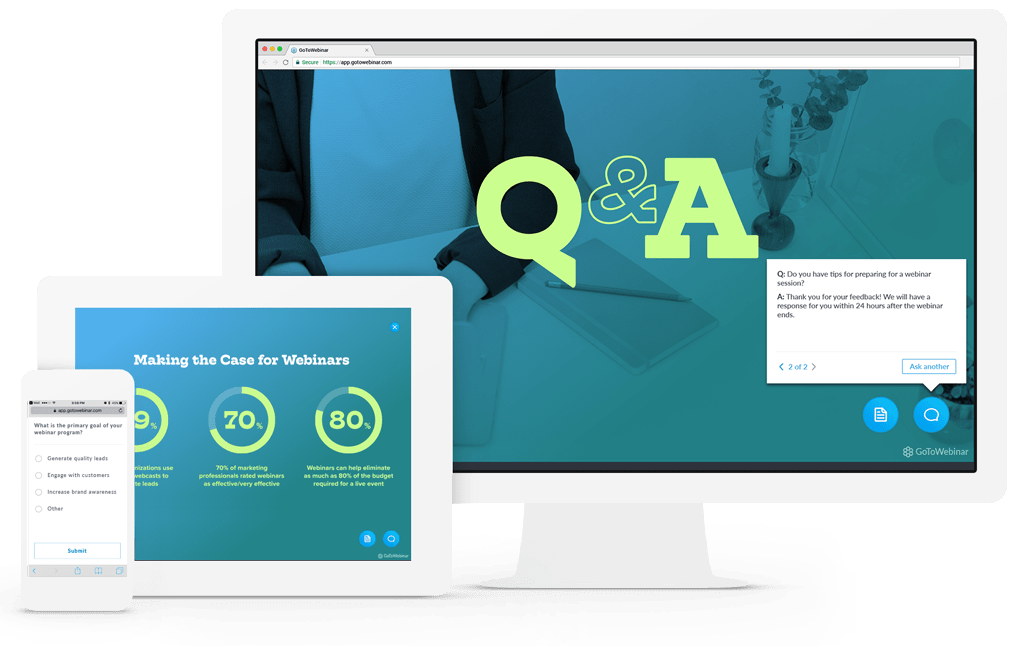 GOTOSTAGE
Turn your old webinars into a source of new leads
Have a webinar that performed well? You can add GoToWebinar recordings to your own Channel page on GoToStage to reach new audiences and generate more leads.
Put your webinars to work.

GoToStage is the all-access video platform for actionable business content that professionals crave but can't find anywhere else. For your brand, it's an opportunity to reach the 60 million professionals who join GoToWebinar events each year. It might just become your new favorite channel for generating awareness and leads.
Publish recordings with a click.

Everything you add to your Channel will automatically be published on GoToStage. (You can always hide your Channel if you'd prefer to keep your content off GoToStage.) To add recordings to your Channel, you have to prepare them first. Once a recording is ready, you can share the link or publish by clicking the "Add to Chanel" button. That's it!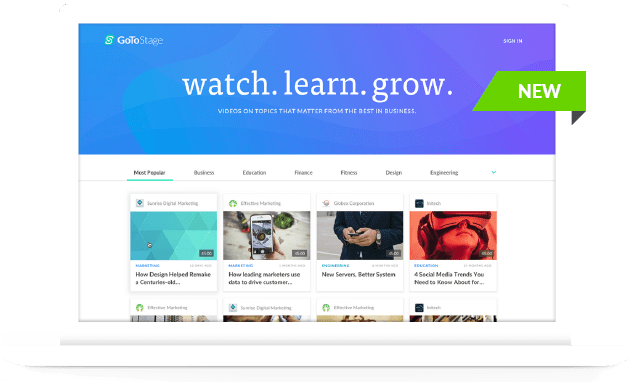 Talk to a Specialist
Speak directly to one of our sales representatives by calling.
1 888 646 0014
Contact Us
Have questions? Want to see a live demo? We'll be in touch within 24 hours.
Contact Sales
Support
Check out our help center for answers to common questions.
View Topics
Try GoToWebinar free for 7 days.
Or contact us to learn more about live webcasting for larger events with GoToWebcast.
Call 1 888 646 0014