WELCOME,
Thanks for purchasing GoToWebinar.
Start creating captivating webinars today.
Watch The Getting Started Video
Let's get you up to speed & start your first webinar.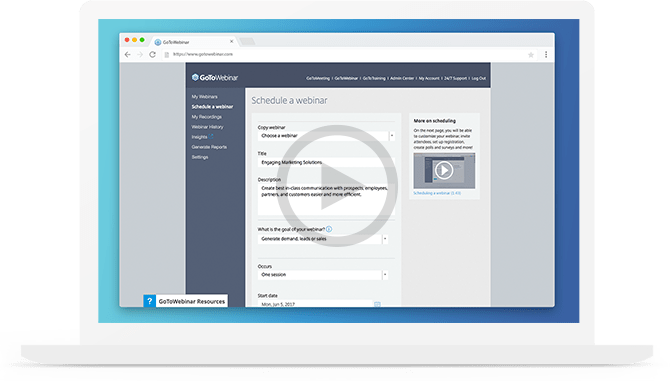 Your Plan Includes
Access to our premier features
Reporting & Analytics
Polls, Handouts, and Q&A & Video Sharing
Automated Emails & Registration
CRM Integrations
VOIP, Phone Audio & Toll Free
Online & Local Recording
Source Tracking
No-Download Experience
1. Plan & Promote
A successful webinar starts with a compelling topic and effective content. GoToWebinar makes it easy to set up your registration page and promote your webinar.
2. Present and Engage
Whether you're taking the stage yourself or turning the mic over to a guest speaker, GoToWebinar tools help you turn presentations into conversations.
3. Evaluate & Influence
Get a bigger return on your webinars with detailed analytics. Recordings help you create on-demand content to share long after your session is over.
Organizer Quick Start
Watch live webinars, get support and more.