HASSLE-FREE WEBCASTING
Webcasts that are simple to run and stunning to watch.
Easily host large-scale webcasting events with live audio, video, polling, Q&A and more.
WEBCAST SOFTWARE
A robust platform for webcasting and live streaming webinars
Successful webcasting all starts at the source, with the right webcast software. But why stop there? Take things further with a powerful and extensive webcast platform, courtesy of GoToWebinar and GoToWebcast. This revolutionary webcast software suite is an intuitive and effective approach to connecting with potential clients and customers, sharing expertise and nurturing leads. Try GoToWebinar and GoToWebcast today and see how streaming webinars and webcasts can take your business to new heights.
WEBCAST SOLUTIONS
Two great webcast tools to choose from.
Before, broadcasting a live audio and video event to audiences around the world meant spending lots of time and resources. Now, things are simpler. GoToWebinar and GoToWebcast put everything you need for live webcasting into your own hands so you can set up an enterprise-quality event in minutes. Stream audio and video, share presentations and foster real engagement with your attendees – all without the expense or hassle of a traditional webcast production.
WEBCAST MODE
Easily host professional webcasts with GoToWebinar.
Webcast mode for GoToWebinar offers the ease of use you want with the expanded reach you need. Schedule a live webcast for up to 2,000 attendees and tell your story through crystal-clear audio, video and screen sharing. Your attendees can join seamlessly from any browser, no downloads required.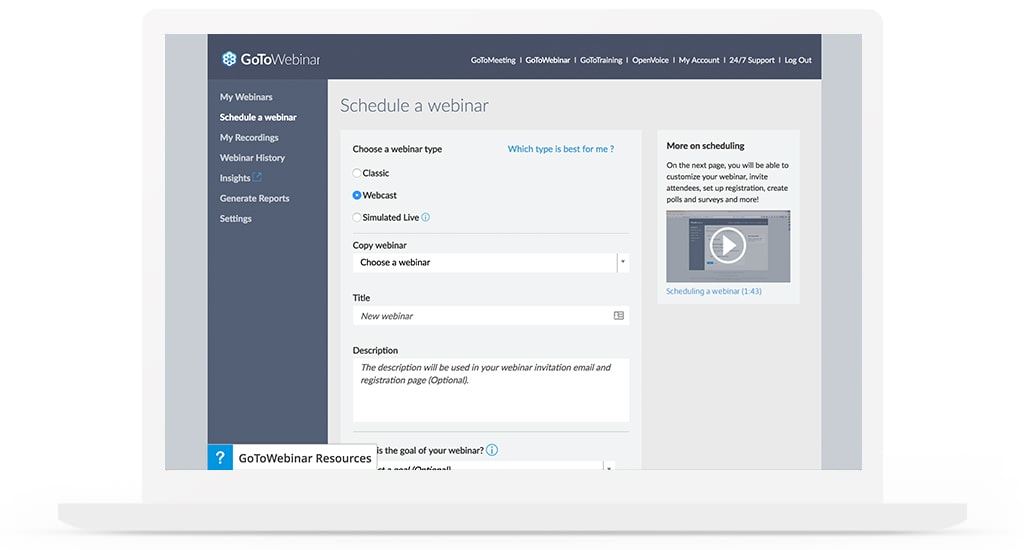 ESSENTIAL WEBCAST FEATURES
The marketer's webcasting toolkit.
GoToWebinar offers a full suite of webcast features to ensure that you can generate qualified leads with ease.
Simple setup
Schedule new webcasts, edit upcoming sessions and more from a single, cloud-based dashboard.
Practice sessions
Do dry runs with organizers and panelists to make sure things run smoothly during the live webcast.
Email automation
Take advantage of automated email templates or create your own email invitations, confirmations and reminders.
Custom branding
Make sure your brand shines by including your company logo on all your webcast materials.
Reporting and analytics
Capture relevant data to see how your webcasts performed and which attendees showed the most interest.
CRM integration
Streamline your marketing and lead generation with GoToWebinar integrations for popular CRM tools.
SCALE UP YOUR WEBCASTS
Broadcast to a broader audience with GoToWebcast.
When you need to connect with even larger audiences, GoToWebcast is the simple choice. The self-service live webcasting solution makes it possible to run enterprise-quality online events without any training. Right from your browser, you can broadcast audio or video presentations to 5,000 attendees on any device.
ADVANCED WEBCAST FEATURES
Big events. Even bigger impact.
GoToWebcast has everything you need to launch a product or service, provide training to an entire company or even conduct online "town hall" meetings.
5-step webcast guide

Our online webcast walkthrough allows users of any skill level to schedule, customize and broadcast webcasts.
Advanced customization

Brand the webcast window that attendees see during the live event, along with registration pages, emails and reminders.
Universal URL

GoToWebcast creates a single link for each event that attendees can use to both join the live webcast and watch the recording.
Audience interaction

In-session Q&A and polling questions give you more ways to keep your audience interested and engaged.
Video sharing

Pre-load videos and then roll them in during the presentation for clear playback without slow-downs or hiccups.
Robust reporting

Discover how effective your webcast was with in-depth analytics on your audience and their viewing experience.
HOW WEBCASTS HELP
What are the benefits of webcasts?
Webcasts give you the power to connect with your audience like never before.
Flexibility
With high-quality audio and video, slideshow presentations, document downloads, live chat and polling tools, you can communicate in the way that's most effective for your audience.
Reduced costs
Bring attendees together without you or them having to worry about the high costs associated with travel, lodging and conferences.
Easy access
Using a single link, attendees can log in to view your webcast through any Internet browser on their desktop or mobile devices – all without having to download a thing.
HOW WEBCASTS WORK
How to set up a webcast with GoToWebinar
Effective, simple and reliable. With webcast mode for GoToWebinar, hosting your own webcast is a snap. Just follow these steps to connect with your audiences around the world.

1. Sign in to GoToWebinar. Don't have an account? Start a free trial.

2. Click the Schedule a Webinar button.

3. Select Webcast as the webinar type. Then specify the rest of your webinar details, including the title, description, date, time and time zone.

4. Click Schedule when you're finished.

5. On the Manage Webinar page, customize your webinar settings by clicking edit next to the section you'd like to change.

6. Set up reminder emails by clicking edit right beside the Reminder Email setting.

Watch the Video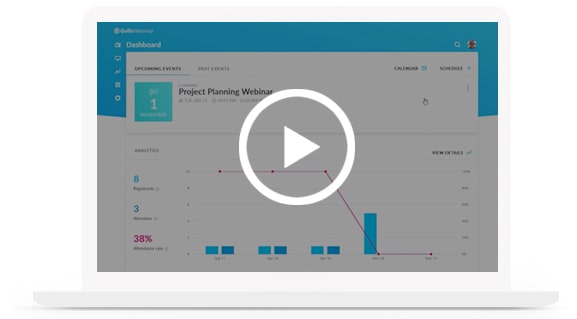 WEBCASTING AND WEBINAR BENEFITS
Elevating your brand with a webcasting and webinar platform that works.
Higher engagement and better webinars are yours to unlock, so long as you have the right webcast software. Amazing webcasts and webinars are within reach with GoToWebinar and GoToWebcast. Get the right platform today, and start reaping the rewards.
FAQs
Get answers to all of your webcast questions.
How does webcasting work?

A webcast generally refers to a digital presentation that can be accessed over the web, or internet. "Webcasting" may be short for "web broadcasting," or "broadcasting using the internet." Webcasts often feature slides or visual elements and also audio.

What are the benefits of webcasting?

Webcasts are low-cost
Webcasts enable wide reach through multiple devices
Webcasts offer rich content
Webcasts enable you to quickly reach your target audience
Webcast audiences don't have to download any software

What is the difference between a webinar and webcast?

Webcasts are perfect for large company meetings and marketing webinars. A webcast is a browser-based experience, and attendees do not have to download software - they watch and listen through their computer or mobile device. While webcasts can include interactive features like polls and Q&A, attendees are automatically muted and cannot be unmuted.

A webinar is an intimate event with a higher level of interactivity. They are great for marketing and training use cases. Attendees can listen using phone or computer audio and they can be unmuted by the webinar organizers.

What are webcasting techniques?

Select goals, strategies, and tactics that you will implement in your webinar.
Choose an engaging webcast title and description.
Take time to promote your webcast.
Utilize slides wisely. Follow good techniques for speaking.
Tell a story.
Ensure you create an interactive webcast experience.

How do you webcast a meeting?

1. Schedule a meeting or webinar
2. Ensure you select "webcast" as the meeting or webinar type
3. Schedule the webcast, customize settings and recording equipment, and send a reminder email.
Return to the Top
Talk to a Specialist
Speak directly to one of our sales representatives by calling.
1 800 514 1317
Contact Us
Have questions? Want to see a live demo? We'll be in touch within 24 hours.
Contact Sales
Support
Check out our help center for answers to common questions.
View Topics
Try GoToWebinar free for 7 days.
Or contact us to learn more about live webcasting for larger events with GoToWebcast.
Call 1 800 514 1317